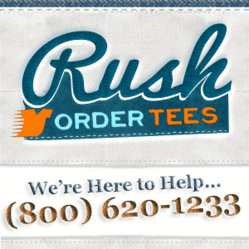 Our sales professionals review possible t shirt design ideas with consideration to a customer's budget.
Philadelphia, PA (PRWEB) May 23, 2012
National custom t-shirts printer Rush Order Tees has expanded its sales team to better guide customers with their t-shirt design ideas. Following increased growth of their screen printing services, the company has increased their Sales and Customer Relations department's by over 400% in Q2 alone.
"Companies offering cheap custom t shirts are all over the web, but people need more. Our sales professionals review t-shirt design ideas with consideration to a customer's budget" explained Ron Reed, VP of Marketing and eCommerce for Printfly and Rush Order Tees. "Shopping for custom t-shirts online, or really any custom product, is particularly stressful for people. They want to have confidence in the business their dealing with."
Following the sales figures and increased social popularity, customers of Rush Order Tees have voted their confidence with their pocketbooks. The company has grown across every area of production and administration adding experienced sales professionals to handle the increased call volumes and demands on live chat help.
"We're pleased with the strides the team has made and the online reviews bear witness to the service they provide. From a talent acquisition perspective, we've targeted experienced sales professionals specific to the screen printing industry to offer our customers the best advice on their custom made t-shirts."
For more information on this release or for service contact Rush Order Tees at (800) 620-1233.
Rush Order Tees
http://www.rushordertees.com/
(800)620-1233
--
About Rush Order Tees
Rush Order Tees custom tshirts have grown in popularity in the past ten years. The company makes t-shirts through screen printing, DTG printing, embroidery and more. The company is an eCommerce based businesses built on repeat business and referrals from satisfied customers, Rush Order Tees has grown to be a major leader in the custom shirt printing industry with expanded product offerings in sports, academic, industrial custom apparel. Recently focusing on more business offerings, the company produces company polos, custom business shirts, custom team jerseys, custom printed hats, custom printed sweats, custom college shirts, school jerseys, custom totes, custom aprons, and more.
Since it's founding in 2002, Rush Order Tees has expanded its product offering beyond custom printed shirts to include a wide variety of sports, academic, community-driven, commercial and business offerings.
As it began to grow out of it's prior facilities, Rush Order Tees acquired a 15,000 SF facility in Philadelphia, PA which they equipped with over twenty of the highest quality screen printers, digital printers (DTG Direct to Garment printers), screen exposure units, screen printing heaters and much more. Now, in 2012, the business continues to grow to a point that now requires a new facility and offices.
Their customers have voiced their well earned allegiance and appreciation across many consumer-driven review sites earning Rush Order Tees and Printfly overwhelmingly positive online rating and reviews across the leading sites including Google, Superpages, Yellow Pages, and the Better Business Bureau where they hold a certified A+ Accredited Rating.
Contact Rush Order Tees at 1 (800) 620-1233