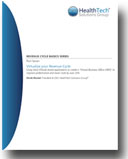 We found that through cloud-based technology, a virtual business office could create a CBO-like effect without ever moving people or assets into a single location. - Derek Morkel, CEO, HealthTech Solutions Group
Plano, Texas (PRWEB) May 24, 2012
Healthcare revenue cycle solutions provider, HealthTech Solutions Group has issued a new white paper that examines how cloud-based technology enables healthcare providers to improve business office performance and lower costs by over 20 percent.
"We found that through cloud-based technology, a virtual business office (VBO) could create a CBO-like effect without ever moving people or assets into a single location," said Derek Morkel, CEO of HealthTech Solutions Group. "A VBO model is a more connected approach. Once implemented, it not only provides an immediate improvement to in-house collections, but it also provides a seamless tool for transferring and managing AR with all facilities as well as outside collectors vendors."
Some of the benefits of a VBO described in the paper include:

The ability to work within one platform. Account data is stored in the VBO and collectors or outside vendors never have to leave the platform.
Comprehensive reporting permits measurement of all collection activity, enabling accountability no matter where the work is done.
Better communication between healthcare facilities and the CBO through integrated request log, which features real-time account activity documentation.
Built-in business intelligence and management reporting tools to improve oversight and reduce time necessary to audit performance.
HealthTech Solutions Group's cloud-based software, myCLAIMIQ AlphaCollector, extends the power of the VBO. With the new technology, healthcare providers can import any patient accounting system data, from any location (hospital, clinic, long-term care, outside vendors, etc.) into AlphaCollector where accounts can be worked and collected with ease.
About HealthTech Solutions Group
For over 40 years, HealthTech has been a premier healthcare services company, working with community hospitals to help them achieve financial stability, growth, and operational success. More information about the company can be found on its website http://www.ht-llc.com.