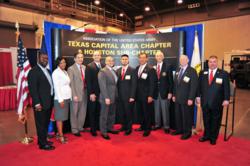 This summit was unique due to its focus on bringing VA lenders and qualified military veterans together in order to achieve the ultimate goal of home ownership. (Jason Noble, RMLO, Security America Mortgage, Inc.)
Houston, TX (PRWEB) May 29, 2012
Security America Mortgage, Inc., a VA Home Loan and Real Estate company from Houston, Texas recently attended the Association of the United States Army's 2012 Military Housing Summit, held at Reliant Park on Saturday, May 19.
The summit, being the first of its kind, highlighted a key theme pertaining to VA housing initiatives that support military members who are either transitioning their lives back into the United States or veterans who are struggling to buy or afford a home on a budget. Before the doors were opened to the public, breakfast with a handful of federal and local government officials took place for all corporate company sponsors and non-profit organizations to gather and work through solutions for the challenges being faced with the VA Home Loan Process.
The VA Guaranteed Loan is a VA backed mortgage that allows eligible veterans and active duty military service members the dream of owning a home using their VA Home Loan Benefits. The overall goal of the housing summit was to implement a proactive approach to making the VA loan processes more transparent, easier to understand, and mainly, to put military service members into homes at a faster than the current pace.
Following the excitement and set up, the Housing Summit's grand opening began at 10AM, welcoming veterans and military from all walks of life.
This summit was open to the general public but targeted veterans and military members of all branches and components. There were education classes on a wide range of VA benefits to include those provided directly by the State of Texas. Topics presented for Veterans to take advantage of during the hourly classes included, VA Home Loan tips over how to utilize their benefits to achieve a maximum result in savings based on their current (or potential) financial responsibilities. Other topics discussed in the classes for veterans included tricks of the trade provided by professionals in the industry of home loan financing regarding credit scores, financial aid, mortgage calculations for VA Funding Fee, and how certain details of an individual's budget play a role in how the interest rates are finalized with the lender and VA. Officials from the Veterans Land Board were on hand to provide guidance to veterans with the goal of purchasing land to build on.
"We are here to provide education and resources for veterans and their families," said Jim Bob Mickler, Marketing Team Manager of Veterans Land Board. Classes were held hourly throughout the day for eligible military members as well as mortgage lenders over ways they can take advantage of the VA guarantee loan, purchase land directly from the state, and manage finances accordingly in order to properly secure a VA mortgage approval. Members who attended the housing classes were given the opportunity to learn about VA Home Loan Benefits and VA laws currently in effect based on the guidelines set by the Department of Veteran Affairs.
One special tidbit that stood out in the crowd of banking and lending professionals who know the best tricks of the trade in getting the best interest rates and financial savings. According to Jason Noble, Residential Mortgage Loan Originator and Managing Director from Security America Mortgage, Inc., the Advantages of Using a VA Loan to finance a mortgage in Texas include: lower interest rates, no down payment on a home, free home inspections, free insurance with no requirements of needing homeowners insurance, easier credit requirements on higher mortgage amounts, to name a few.
Also, in order to achieve the American dream of owning a home, Noble pointed out the need for veterans to be better informed with regard to finding VA approved lenders (like his company), and the need for lending companies as well as government officials in charge of the VA financial processes with the VA guarantees to take on a more proactive role in owning the responsibility of being transparent the Veteran and Military public about what they are entitled to.
Noble provided pertinent information to John Trasvina, the U.S. Assistant Secretary of the Office For Fair Housing and Equal Opportunity, who further discussed specifics during his briefing, saying that, "Thanks to Jason, we've received some info pertaining to specific VA Lending processes that we in Washington are going to take action on in order to help place Veterans into homes more efficiently than our current process in place."
According to the AUSA, approximately six thousand people attended the VA housing event throughout the day.
Written By Steve Otero and Nina Howell, Security America Mortgage, Inc.