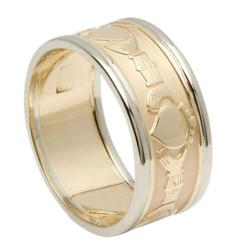 New York, NY (PRWEB) May 24, 2012
John Murray CEO of Donegal Importers announced today "Donegal Importers is now carrying engagement rings and wedding bands."
Mr Murray went on to say, "Irish jewelry is the probably the most quality conscious jewelry in the world. Every piece that is sold must bear the Irish Hallmark which is independently verified by Dublin Castle Assay office which is your guarantee of quality and your piece has this."
The Assay office in Dublin has been in existence since 1637. It is organised and run by the Worshipful Company of Goldsmiths of Dublin who are representatives of the jewelry trade in Ireland.
The function of the Assay office is to ensure that the various gold, silver and platinum alloys measure up to declared standards. Example, 18kt gold should contain 750 parts pure gold per 1000 parts i.e. 75% pure. The other 25% will be made up of different alloys and precious metals like Silver, Bronze,Copper,Zinc etc.
Each manufacturer and wholesaler is obliged by law to submit all his products to the assay office for testing. If the standards are not met the product will be destroyed or marked with a lower carat stamp i.e. 13.95 can only be marked as 10kt. So all Irish made jewellery will actually have more gold content then specified. This stringent adherence to high standards ensures that the consumer is given maximum protection.
Mr Murray concluded "Donegal Importers is the best place to buy genuine products only from Ireland"