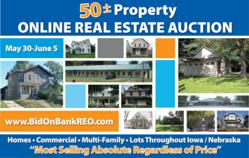 Des Moines, IA (PRWEB) May 24, 2012
Opportunities to buy homes, lots, commercial, multi-family, land, retail, nursing homes, a warehouse and more will be available for you at Auction at http://www.BidOnBankREO.com from 12:00pm CT on Wednesday, May 30 and conclude at 12:00pm CT on Tuesday, June 5. All of these properties are located through-out Iowa and Nebraska.
Commercial Real Estate Advisor, Greg Finley, of Sperry Van Ness / Fiducia Properties said, "Most of these properties offer opportunities for the savvy investor with capabilities and experience to 'fix up' and either rent or resell in the market place - The auction will provide the convenience of bidding online on the internet from either your office or home with the majority of the properties being offered and sold absolute to the highest bidders regardless of price with no minimums or reserves."
The website http://www.BidOnBankREO.com has pertinent information for each property being offered in the Online Auction as well as an "SVN Auctions Intro Video" that is highly recommended which explains the online auction procedure so you can be comfortable with the bidding process prior to the event.
In addition, the website also has local listing brokers contact information, so that you can contact them directly for specific questions and additional information. Open Houses began May 19, 2012. Please visit http://www.BidOnBankREO.com for specific days and times. A 3% Broker Cooperation is also available to prequalified and licensed real estate brokers/agents.
Founded in 1987, Sperry Van Ness is one of the largest and fastest-growing commercial real estate brokerage firms in the industry, with more than 850 advisors in over 150 locations. The firm is built to immediately market every one of its clients' properties to the entire brokerage community. Sperry Van Ness delivers results for clients through a proven business model that provides advanced marketing and technology tools. Based in Irvine, California, the firm operates internationally and provides brokerage, consultation, asset management, property management, leasing, accelerated marketing, and auction services. Sperry Van Ness transactions total billions of dollars annually in office, multifamily, retail, industrial, self-storage, hospitality and land transactions.
SVN Auction Team members are fully integrated with Sperry Van Ness International and the 850 member advisors. Collectively, the team boasts more than 100 years of experience in planning, orchestrating and conducting successful auctions and sealed bid sales throughout North America, Mexico, Puerto Rico, and the U.S. Virgin Islands.
All Sperry Van Ness Offices Independently owned and operated.