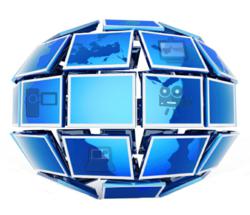 "Before Ensemble, we were clogging our learning management system with video files that took up a lot of space and performed poorly. Video files are now easily uploaded, converted, and streamed for playback directly within our LMS."
Herkimer, N.Y. (PRWEB) May 23, 2012
Annese & Associates, Inc. is pleased to announce that The New England Institute of Technology (NEIT) has subscribed to its hosted enterprise-class video content management platform, Ensemble Video, as a means of increasing digital collaboration across campus.
As the leader in technical career education in Southeastern New England, NEIT recognized the value that implementing a reliable digital media element into their learning management system could provide to students and administrators alike.
Ensemble Video is best described as a "secure YouTube" providing an easy and cost-effective solution for uploading, cataloguing, syndicating, and sharing streaming digital content securely across organizations and education institutions. The platform, licensed through Symphony Video, Inc., was developed at Syracuse University in 2007 by Andy Covell, the former Executive Director of IT of the Whitman School of Business. Annese was an angel investor to the product, and currently resides on the Board of Directors.
"Ensemble Video has quickly become a part of our online presence here at New England Tech," said Tom Thibodeau, Assistant Provost at the Institute. "Before Ensemble, we were clogging our learning management system (LMS) with video files that took up a lot of space and performed poorly. With Ensemble we have solved that problem quickly and simply. Video files are now easily uploaded, converted, and streamed for playback directly within our LMS."
"We knew immediately that Andy had a great idea that would prove to have broad utility and value across a wide segment of buyer groups," says Ray Apy, President and CEO of Annese. In five short years, the product has exploded in sales for the company, has received national recognition such as the 2010 Campus Technology Innovators Award bestowed by Syracuse University, and has spurred creative areas of business growth for Annese.
As part of its collaboration suite of services, Unite, Annese offers Ensemble Video as a hosted video management component for commercial enterprises or schools and universities that do not wish to take on the full management of the platform in-house. The product is also available for customers to host internally if they choose.
NEIT has subscribed to Annese's Hosted Ensemble Video offering, which allows all of the same features and functionalities of the platform for a fraction of the cost and management requirements.
About Annese & Associates, Inc.
Expertise, Relationships, Innovation. Throughout the past four decades, these principles have established the foundation upon which Annese & Associates has emerged as the trusted adviser to our customers, partners, and communities. While we emphasize the value of designing, installing, and maintaining the boxes and wires that make up your network, we never lose sight of the core deliverables: leadership, integrity, and excellence. Our connections extend beyond devices and networks; we bring people to people, and ideas to action.