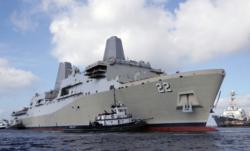 This is a proud moment for San Diegans and veterans everywhere
San Diego, CA (PRWEB) May 23, 2012
VA Home Loan Centers, premier military-focused loan organization, today announced a rebate up to 2 percent for all California borrowers, in celebration of the commissioning of the USS San Diego. While this ship is the fourth Navy ship to be named after San Diego, and it is the first one to call the city its home port. The USS San Diego is dubbed "America's Finest City," and the name honors both the city of San Diego and its continuous strong support of the military.
The Navy commissioned the ship, also called a landing platform dock (LPD), on May 19, 2012 in San Diego. Jerry Sanders, Mayor of San Diego, said, "...the ship being commissioned is the most advanced amphibious ship in the world." San Diego residents turned out in record numbers, as 6,000 attendees witnessed the commissioning ceremony. The ceremony celebrates a Navy ship beginning active military service.
Three other warships have borne the name of San Diego. The original USS San Diego was a battleship launched in 1907 that received the name San Diego in 1914. The second USS San Diego was a light battleship commissioned in 1942 that was a highly-decorated U.S. Navy vessel. The third USS San Diego was a freighter that was active between 1968 and 1997.
As the fourth USS San Diego takes its place in the service of the U.S. in the Third Fleet, Philip Georgiades, Chief Loan Steward for VA Home Loan Centers, commented, "This is a proud moment for San Diegans and veterans everywhere." VA Home Loan Centers is a strong supporter of the military and is a trusted resource for veterans. Mr. Georgiades continued, "We want to demonstrate our support and do our part to highlight this important San Diego event."
About VA Home Loan Centers
VA Home Loan Centers concentrates on assisting all eligible veterans to become homeowners. VA Home Loan Centers provides VA loan short sale processing, home purchase assistance, and processing of VA loan applications. VA Loan Centers is happy to explain why its services can help veterans more than a traditional bank. For more information on attaining your dream of home ownership, call 888-573-4496 or click here to apply.