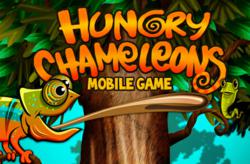 "Hungry Chameleons is definitely an addictive game. The graphics are great and the game is just fun. Nothing complicated at all, but enough to keep you coming back for more."
Arlington VA (PRWEB) May 24, 2012
Thumbs Media LLC, a veteran owned mobile app development company that makes fun and useful mobile apps for the marketplace, is launching a new mobile game called Hungry Chameleons. Initially planned for release on iOS and eventually to be launched for Android platforms, Hungry Chameleons is an entertaining game inspired by the developers' adoration for the color changing reptiles.
"We are really looking forward to releasing this first game Hungry Chameleons. It is the perfect synergy of our childhood interests in reptiles and specifically chameleons all while tapping into our passion for technology," said Thomas Typinski, co-Founder of Thumbs Media LLC.
Still in the development stage, they are seeking to raise $3,500 via a new funding source called Kick Starter (http://www.kickstarter.com). This $3,500 funding will cover some last stage development needs and marketing budget to ensure a successful launch on Apple Apps Store.
"We want to make sure the game is a success and that can only be achieved through great marketing. Through Kick Starter we are offering rewards ranging from getting your name into the credits of the game for a $10 contribution all the way to getting your company's logo embedded within the characters of the game itself. Our Kick Starter project offers several different very exciting rewards to the contributors of the project on kickstarter. We look forward to the collaborative efforts of others that are just as excited about our project as we are." the two added.
About Thumbs Media
Thumbs Media, LLC is a company specializing in the development of mobile applications. Founded in January 2012 by two friends primarily as a mobile gaming studio, Thumbs Media is not aiming to be the most innovative mobile application company, but to cater to specific needs that are inadequately being met in the market and offer incredible solutions, all while having fun and enjoying the experience of using their apps.
Thumbs Media may be reached by phone at (202) 725-0235 or email to marcus(at)thumbsmedia(dot)com.