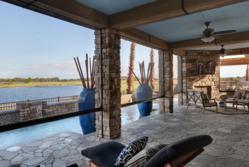 Washington, D.C. (PRWEB) May 23, 2012
With their trackpads and finger swipes, more than 11,000 builders, architects, realtors, and homeowners have chosen the most popular products in the BUILDER Concept Home 2012 (http://www.builderconcepthome2012.com).
Their selection of the most intriguing products featured on the online, photo-realistic virtual tour of progressive houses for an active Baby Boomer couple and a blended Gen X family, available 24/7 on any web-enabled personal computer and mobile device, represent an eclectic mix of solutions that help achieve better energy efficiency, deliver high style, and enable greater convenience.
Energy and Resource Efficiency are hot topics among both housing professionals and consumers. Those who virtually toured the BUILDER Concept Home 2012 took particular notice of the weather-resistant barrier and window flashing from Fiberweb/TyPar, presented in a detailed cutaway on the Gen X house that shows the proper materials and methods to create a building envelope that mitigates air and moisture infiltration.
Meanwhile, an outdoor tankless water heater from A. O. Smith saves water and water heating energy by delivering an "endless" supply of hot water to multiple water-using appliances and plumbing fixtures throughout the Baby Boomer house. Energy-efficient windows made from Deceuninck feature a durable reinforced-vinyl frame system and an insulated glass assembly that reduces solar heat gain and thermal transfer to maintain indoor comfort.
High Style had its turn among the home's virtual visitors attracted to the variety of veneer stone supplied by Eldorado Stone, used both inside and out on all three Concept homes; corner sliding and telescoping patio doors from WinDoor, Inc., which create wide-open indoor-outdoor transitions; rough and tumbled (and beautiful) concrete pavers from Belgard that grace each home's driveway and other hardscapes that perfectly complement the distinct concrete roofing tiles supplied by Eagle Roofing Products.
Convenience also attracted interest on the virtual tour. To preserve the comfort and usability of the deep lanai of the Gen X house and its cozy outdoor fireplace, motorized shade screens from Phantom Screens enclose the space to protect against the harsh sun and insects … and enable year-round enjoyment.
And speaking of fireplaces, the sleek, see-through gas fireplace from Hearth & Home Technologies placed between the Family Office and the Family Room of the Gen X house not only helps warm those spaces, but also provides a measure of style and interest. Not to be outdone, the fun and functional Karbon articulating faucet from Kohler, serving the Baby Boomer kitchen, allows the cook to direct the spout in almost any direction for optimal convenience; it also is qualified under the EPA WaterSense program for water-use efficiency.
The BUILDER Concept Home 2012 features three homes each designed and built to suit distinct generations—an active Baby Boomer couple, a blended Generation X family, and a professional Millennial (or Gen Y) couple. The homes were built side-by-side in the Eagle Creek community in Orlando, Fla., to serve as the model homes for a 1,900-unit development by Centerline Homes.
The BUILDER Concept Home 2012 is the 14th in a series of innovative and timely idea homes presented by BUILDER magazine in conjunction with the annual International Builders' Show. Its award-winning virtual tour component extends the value of that experience with 24/7 access and a deep level of content not found on any other house tour—live or online.
For more information and to take the virtual house tour, go to http://www.builderconcepthome2012.com.
Note to editors: A b-roll video reel and high-resolution photos of the BUILDER Concept Home 2012 are available in the Media section at http://www.builderconcepthome2012.com.
About BUILDER
Published by Hanley Wood, BUILDER is the leading brand in residential construction and serves as the magazine of the National Association of Home Builders (NAHB). For more than three decades, BUILDER has provided essential news, information and resources about products, technologies, trends, regulatory requirements and best practices to help home building professionals innovate for success. With an integrated platform encompassing print, online and in-person, BUILDER is a trusted source for top builders, architects and other industry professionals across the country. http://www.BUILDERONLINE.com
About Hanley Wood
Hanley Wood, LLC, is the premier media and information company serving the housing and commercial design and construction industries. Through its operating platforms, the company produces award-winning magazines and Web sites, marquee trade shows and events, market intelligence data and custom marketing solutions. The company also is North America's leading publisher of home plans. http://www.hanleywood.com