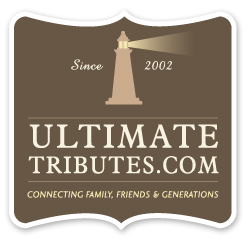 UltimateTributes.com connects family, friends and generations...
(PRWEB) May 24, 2012
UltimateTributes.com provides a memorial scrapbook of a departed loved one that is accessible by anyone at anytime. The website brings families together to share cherished memories across the miles. Now, those vivid memorials can also be shared from the gravesite because of UltimateTributes.com's most recent technology: QR (quick response) code stickers that are now available at its sister website, Identribute.com. Click this Memory Maker to see how the code works. You may visit an online memorial by clicking Tribute and scanning with your mobile telephone.
At Identribute.com, users can easily order and purchase a custom QR code vinyl sticker when they have an existing web based, online memorial of their loved one that can also include Facebook pages. The adhesive, vinyl patch can simply be applied to the surface of the grave marker or monument of the deceased. When scanned with one of the many free QR code reader applications available on smart phones, gravesite visitors will be directed to the memorial website of the deceased. Follow the process at Indentribute Video.
UltimateTributes.com, developed by Spherexx.com, is a peaceful and reflective website. Users can find comfort in the archived memories of their loved ones with photos, poems, stories and news clippings. When a visitor arrives at the tranquil website they can scroll through the recently added Ultimate Tributes, read about the deceased, see pictures, and find funeral service information.
UltimateTributes.com was one of the first online memorial sites ever created. The website's founder, Mark Mercer, said he saw a need for the funeral industry to progress to the 21st century technologically, so in 2002, UltimateTributes.com was created. UltimateTributes.com does not only service individuals who have lost love ones, but funeral homes utilize the website as well.
"We are constantly looking for ways to improve upon the memorializing process," Mercer says.
UltimateTributes.com and Spherexx.com work together to build specialized services for the funeral industry such as website development, online pre-planning, video tributes and multimedia. They are honored to work with funeral homes like Bixby Funeral Service, Fitzgerald Funeral Service, Hayhurst Funeral Home, Moore Funeral Homes, and Shipman Funeral Homes.
It is easy to share your loved one's tribute with friends. To share your memorial site with friends, UltimateTributes.com interfaces with Facebook, and offers a "Text Link to a Friend" feature where the website will send a link directly to your friend or family member's cell phone.
The website makes the memorializing process even easier by providing users with a link to order flowers or gifts that can be delivered to a specific memorial site. To use this unique service, users simply click the "Flowers and Gifts" icon on the website and they will be directed to an array of beautiful options to order for delivery.
The website recently launched Mobile Tributes, a free smart phone application that brings aspects of the website to your phone. Users can view the names and dates of the deceased. Mobile Tributes can be used to share grave site locations with friends and family, provide Google Maps directions to the gravesite, share comments, and the opportunity for loved ones to send flowers to the gravesite, home, church, or funeral home, via a reminder feature. The application can also sync with Facebook so users can share comments and memorials with friends. To download the smart phone application search "Mobile Tributes" in the Apple iPhone App Store or Android Play Store.
About UltimateTributes.com
Ultimate Tributes is today's answer to archiving the memories of our loved ones. Your archive is custom designed by you and can include photos, poems, stories and news clippings. You owe it to your future generation to provide insight into the character, personality and accomplishments of their family members. Our core product is our "Ultimate Tribute memorial site" and it is basically a digital version of a scrapbook or photo album you have cherished through the years.
UltimateTributes.com connects family, friends and generations by memorializing the life, history and spirit of those that have gone before us.
Future projects include online wakes, online funerals, audio and video clips (custom recordings) and other related services that will allow our friends and family in a remote location to be a part of the memorial process via the internet.
God gave memories as roses in December.
About Spherexx.com ®—Ad Agency | Software Development | Data Centers
Established in 2000, Spherexx.com is recognized as an established leader in the web site, Internet marketing and software development services. With offices located in Tulsa, Dallas, Austin and Houston, the company has been distinguished as one of INC5000's fastest growing companies. Spherexx.com offers a wide selection of professional services including web design and development, touch-screen kiosks, Internet lead generation tools, online advertising, apartment leasing consulting, advanced mobile technology, apartment lease-up marketing consulting, and search engine performance.
The company also provides branding services, video/multimedia production, print media, and copywriting as well as website and email hosting, database solutions, pay per click, e-commerce solutions and custom programming. Spherexx.com has developed CRM (customer relationship management) products, marketing and lead generation tools that allow clients to better manage and convert leads to leases and sales. These applications are branded under ILoveLeasing.com; MarketSurveyTools.com, and RentPush.com. Spherexx.com provides web-based prospecting, marketing, advertising management, and support services.