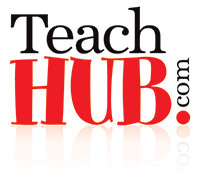 "Checking out TeachHUB is always one of the highlights of my week!"
(PRWEB) May 23, 2012
TeachHUB.com is a resource website provided by the K-12 Teachers Alliance at zero cost to its members and visitors. TeachHUB's online teacher community offers news, recommendations and resources by teacher, for teachers.
TeachHUB's free resources include daily education-related articles, teacher tips, fun giveaways, teacher blogs, and professional development resources, in addition to the free printable lesson plans and video writing prompts guaranteed to engage students.
In these last 3 years, TeachHUB has reached nearly 1.2 million educators, including the 30,000 registered members and TeachHUB subscribers. TeachHUB now welcomes more than 100,000 teachers per month that visit the TeachHUB online community for our free education resources.
The most popular features on the website are the free teaching tools, including the Free Pop Culture Printable Lesson Plans and the Video Writing Prompts. These teaching resources tap into students' interests while tying in required curriculum connections to help teachers foster student engagement.
"I love the video writing prompts and pop culture selections," said TeachHUB member Debra Notaro, an elementary math teacher from Massachusetts. "The students really enjoy them and look forward to lessons that use these resources. The educational articles are always interesting to me and provide info and sometimes validation of what I'm doing in class."
The majority of the content on TeachHUB is created by working educators who want to share their tips, experience and expertise with their fellow teachers. The teacher bloggers on TeachHUB are among the most dedicated and creative contributors.
TeachHUB Real Teacher Blogs

Caitlin Orsborne, Special Education Resource Room Blog
Steven Anderson, Web 2.0 Classroom Blog
Myree Conway, Outside the Box Teaching Ideas Blog
Don Goble, Digital Media in the Classroom Blog
Laura Candler, Active Engagement Made Easy Blog
Michael Zimmer, Putting Ed Tech Into Practice Blog
Steve Moore, The Optimistic Educator Blog
Tiffany Della Vedova, Teach on the Edge Blog
Check out the latest teacher blog posts on TeachHUB.
Not only is TeachHUB beneficial to teachers, it is also a lot of fun.
"Checking out TeachHUB is always one of the highlights of my week!" said Nancy Peters, 6th grade science teacher in Lincoln, Nebraska.
KTA offers classroom funding and donations to the TeachHUB community through fun giveaways and contests as well. Some previous giveaways include classroom projectors, an iPad, field trip funding, gift certificates for classroom supplies and much more.
Not only do these contests/giveaways provide valuable resources for educators, but it also fosters community engagement by having educators share lesson ideas, tips, photos and more.
Find the latest contests & giveaways on TeachHUB.
The true value of this teacher community is in the expertise, recommendations and resources that educators share with one another. As the TeachHUB community grows, so do the benefits provided to educator members and those visiting the site for the first time.
With three years under their belts, the K-12 Teachers Alliance and TeachHUB team are excited to continue serving educators for years to come.
About the K-12 Teachers Alliance
The K-12 Teachers Alliance is dedicated to meeting the needs of teachers, principals, and the students they serve. It is the mission of K-12 Teachers Alliance to help educators and students overcome the diverse challenges to achieve success in and outside the classroom.