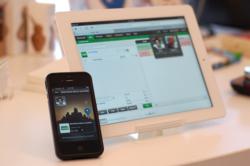 We're blown away by the development of Vend since we first invested in the company about a year ago and we're super-excited to invest again - Christoph Janz, Point Nine Capital
San Francisco, CA (PRWEB) May 25, 2012
San Francisco & Auckland based technology start-up Vend has this week secured a further injection of capital from a global investment consortium, led by Point Nine Capital in Europe, and announced a key strategic partnership with PayPal, to bring mobile payments to small retailers worldwide.
Launched in late 2010, Vend is an award-winning, intuitive, web-based point-of-sale (POS) platform. With over 11,000 registered accounts in more than 80 countries, the company already processes more than 1 million transactions a month.
The partnership with PayPal was announced 24th May at a media event at Ebay headquarters in San Jose, CA. Currently in trial with a small number of Vend retailers, PayPal offers an integrated and innovative way for customers to pay for goods and services by simply 'checking in' to the store on the PayPal app their smart phone.
"We're blown away by the development of Vend since we first invested in the company about a year ago and we're super-excited to invest again," said Point Nine Capital Managing Partner Christoph Janz, an early investor and advisor at Zendesk. "Vend is going to improve the life of hundreds of thousands of people working in retail."
The world's first HTML5 retail POS, Vend lets retailers process sales, track inventory, and manage customers on any device or platform, including an iPad, or even existing POS hardware.
Vend is especially popular with independent retailers because, by integrating with a suite of 3rd party apps, it offers a powerful, yet low-cost, small-business solution. Integrations include Shopify hosted ecommerce, Xero accounting, Perkville rewards, and now PayPal.
"We love Vend because it's web-based, our inventory control is much better than before, checkout is a thousand times faster, and our data is safe in the cloud," said Phurba Gyalzen of Rare Device, San Francisco. "The integration with PayPal & Vend is the future, and we're totally excited to be a part of it."
"The demand for Vend in the 18 months since launch has been amazing," said Vaughan Rowsell, CEO and founder of Vend. "Retailers all around the world are falling in love with online POS. This additional round of funding allows us to to scale our team to meet the demand, keep disrupting the space with new innovation and develop some exciting new global partnerships."
Find out more at http://www.vendhq.com/paypal