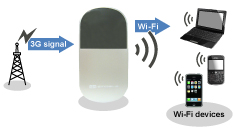 Telecom Square USA is prompt, professional, and pleasure to do business with.
Pearland, TX (PRWEB) May 29, 2012
People need the internet today, its the best way to find information quickly, and an easy way to communicate. When leaving the country it can be hard to stay connected with those back home, and to do business while on the move. Telecom Square USA's WiFi rental allows people to do these things easily, by renting internet that can be easily carried while traveling internationally. This small device sends out a wireless internet signal to any device within its area. Connecting to the device gives access to unlimited internet, to do things like access email, check social networks, and even do business over the web.
Phone service providers offer internet overseas, but charge outrageous international roaming fees. Telecom Square USA's service is 50-90% cheaper than the average provider's international roaming fees. By now renting a mobile device might seem tempting, but there is someone thinking "I'll just find a WiFi Hotspot when I get there." This thinking can cause lots of frustration, when the area doesn't have any available WiFi Hotspots. Using the internet at night may be required, and places that have WiFi Hotspots are not always open. Compared to carrying internet around all the time, it becomes obvious which is more convenient. Another great benefit is only one is needed for up to 5 devices. This means the whole family or traveling group can use one device at the same time. Telecom Square USA does all rentals by mail, so it can be delivered right to the front door. Telecom Square USA has insurance, extra batteries, and discounts available to all consumers. Hopefully this enlightened readers on the use and convenience of getting a mobile WiFi Rental.
Telecom Square USA is a new company bringing great service to the United States. Our dependable staff is always ready to help you in what ever way we can. Telecom Square Inc has been a leading provider of this service in Japan, and we want to bring all their quality service to the United States for anyone to enjoy.
Visit us at: http://www.telecomsquare.co.jp/us/