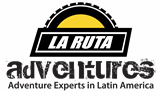 Trail running isn't necessarily about setting the fastest time or covering a predetermined distance
Denver, Co (PRWEB) May 25, 2012
La Ruta Adventures is an adventure travel company and tour operator that now offers many exciting trail running tours.
Trail running is a phenomenal sport that combines the joy of running with the feeling of exploration and discovery. The sport has been steadily gaining international popularity over the past few years.
Although trail running can be done almost anywhere, Costa Rica's biodiversity provides a unique opportunity for runners to experience multiple ecosystems. Costa Rica is considered one of twenty countries with the greatest biodiversity in the world. Four percent (five hundred thousand species) of the world's total species call it home.
Some of La Ruta Adventures premier trails give runners the opportunity to climb a volcano, run through lust tropical rain forests and see thunderous waterfalls all along the same trail. A few short hours away adventures can have a completely different experience. There are some gorgeous beach runs along the Pacific Ocean that include river crossings and the chance for close encounters with wildlife. Participants have the option to enjoy these runs during sunrise and sunset.
Trail running isn't necessarily about setting the fastest time or covering a predetermined distance. For some it's about being out in nature and being mentally stimulated by their surroundings. Others enjoy the relaxed feeling that washes over the runner's body, shoulders, arms and legs as they are in complete control of every breath while discovering unfamiliar territory.
La Ruta Adventures envisioned sharing the spectacular scenery with nature lovers from all around the world. They have incorporated some of their most precious trails in their adventure tour packages.
The Irazu Volcano, Arenal Volcano (surrounding area), San Pedro Turrubares, Jaco, Playa Hermosa, Playa Avellanas, Tamarindo, and the Universidad de la Paz are a few of the areas in Costa Rica that provide some of the best trails.
If you are interested in exploring Costa Rica with one of La Ruta Adventures packages or for more information on trail running in Costa Rica please call 1.888.340.4943 or by email at customerservice(at)larutaadventures(dot)com
Join the conversation with La Ruta Adventures on Facebook.