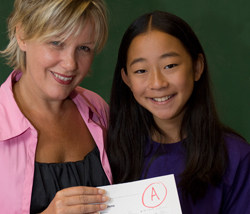 Summer learning research shows that students lose on average two months of math competency
(PRWEB) May 30, 2012
More than three out of four parents are concerned that their children will fall behind academically this summer, according to an online survey from WyzAnt.com, the nation's largest network of private tutors and students. In the survey, 77 percent of parents expressed concern about "summer learning loss," with nearly 50 percent indicating they were very concerned. Summer learning loss refers to the loss of academic skills and knowledge during summer vacation. WyzAnt's survey is based on responses from 270 parents online with a margin of error of ±5.96 percent.
"Because the first couple months of the school year are often spent reviewing material forgotten over the summer, some students go all the way through October without learning anything new," said Andrew Geant, co-founder and CEO of WyzAnt. "Fortunately, more and more parents are aware of summer learning loss and are being proactive by hiring qualified, one-on-one tutors who act as a bridge to the new school year."
Nearly 100 years of research have found that students typically score lower on standardized tests at the start of a new school year than they did at the end of the prior year, according to the National Summer Learning Association. In fact, summer learning research shows that students lose on average two months of math competency and struggle to maintain reading levels, with the loss greatest in math and spelling.
To counter summer learning loss in any subject, WyzAnt makes it easy to begin one-on-one instruction with a local tutor. WyzAnt's tutor marketplace contains over 45,000 screened and certified tutors capable of teaching a wide range of subjects and student needs, from math and science to special needs and test preparation.
At WyzAnt.com, parents and students can interview multiple tutors, review feedback and run background checks – all in one convenient place. For more information or to find a tutor in your area, please visit http://www.wyzant.com.
About WyzAnt.com
WyzAnt.com is the largest marketplace for tutors & students, offering an easy-to-use and secure environment designed to foster learning though one-on-one instruction. WyzAnt has maintained an "A" rating with the Better Business Bureau and allows students to begin lessons with the security of a 100% satisfaction guarantee. Students and parents can visit WyzAnt.com to find tutors in a variety of subjects spanning academics, test preparation, music instruction and computer and career training. To learn more and to hear what WyzAnt customers have to say, find WyzAnt on Facebook or read the WyzAnt Twitter page.