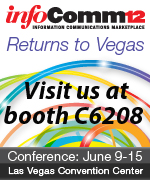 This summer marks the busiest yet in terms of trade shows and events for Acoustical Solutions, Inc.
Richmond, VA (PRWEB) May 23, 2012
The market for noise control and soundproofing has expanded in recent years, with research revealing the increased productivity, health benefits, and peace-of-mind acoustically treated spaces provide. This summer marks the busiest yet in terms of trade shows and events for Acoustical Solutions, Inc. as they finish an expo in Houston and pack up for Las Vegas, spreading the word about improving acoustics.
Last week the General Services Administration held their annual Training and Expo to benefit federal, state and local government employees and military members who make or influence purchasing decisions. These employees attend an extensive three-day learning program and network with experts from GSA and other agencies to build acquisition knowledge. They can then meet with trusted vendors on the show floor like Acoustical Solutions, Inc. who are contracted with GSA and provide their products at the best price to government buyers.
Since obtaining a GSA Schedule Contract last year, Acoustical Solutions, Inc. has been selling acoustical products like acoustic foam and ceiling tiles directly to government agencies treating courtrooms, testing facilities, offices, and more. These agencies use ASI's contract number, GS07F0588X, or visit GSA Advantage! online to purchase soundproofing and noise control for government facilities at a discounted price. The GSA Expo provides the opportunity for ASI reps to meet face to face with government buyers, build trust, and answer questions on acoustics.
The next trade show on the schedule for Acoustical Solutions is InfoComm 2012, the largest AV trade show in the world, where ASI will be booth C6208. InfoComm 2012 boasts over 925 exhibitors showcasing thousands of products, over 300 educational sessions taught by the industry's most respected experts and over 34,000 AV pros from all around the world. This is a show that ASI has attended for many years, manning a double booth representing Acoustical Solutions, Inc. and Acoustone, maker of high quality speaker fabrics.
"Acoustical Solutions is the national distributor of Acoustone fabrics so we get to represent them at shows," said Acoustical Solutions Trade Show Manager Don Strahle, "Infocomm is full of people looking to upgrade theaters, recording studios, and auditoriums, and Acoustone Grille Cloth is a perfect solution".
A new product featured in the Acoustical Solutions booth at InfoComm will be AcoustiArt Sound Absorbing Panels. These are customizable printed acoustical wall panels that can be made with any graphic or photo the customer chooses, allowing for versatility in design not previously available in acoustic wall panels.
About Acoustical Solutions, Inc.:
Since 1989 Acoustical Solutions, Inc. has provided the detailed expertise needed to serve the noise control community. Acoustical Solutions, Inc. works with a wide variety of customers from commercial and residential development to worship facilities, recording studios and home theater designers. Acoustical Solutions, Inc. offers the industry's most comprehensive selection of noise control and soundproofing products, including a full line of indoor and outdoor industrial, commercial, environmental and architectural noise control products.
For more information please visit http://www.AcousticalSolutions.com, call 1-800-782-5742, or see our media kit.
###