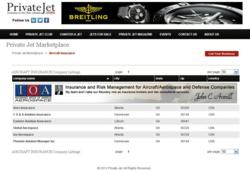 Atlanta, GA (PRWEB) May 22, 2012
A leading web resource for jet charters has launched a one-stop-shop marketplace for anyone looking to take to the skies.
In such an exclusive niche, private jet and luxury goods clients are often faced with the challenge of piecing together a very fragmented industry. PrivateJet.com has found a solution to that problem by launching a marketplace with business listings for aircraft and luxury services. Now, instead of sorting through dozens of unique websites to find listings for aircraft charter, insurance, and management companies, consumers are presented with a comprehensive directory of businesses to cater to every need.
It is estimated that about 90% of those clients first look for luxury goods and services online. However, many of them are spending hours to find a business with the right fit. With the marketplace, clients have the opportunity to search for and compare businesses by location and company profile all in one place.
Besides the value of convenience and price for customers, the affiliated businesses are also sure to benefit. "I believe our portal will create opportunity for smaller luxury services to compete with the 'big dogs' in each vertical by allowing them to ride high on our marketing efforts," said Vice President of Operations, Randall Da Costa, "We have a top-notch team that focuses solely on search engine rankings and social media marketing strategies that will bring traffic to businesses that provide an excellent service but may not have the knowledge or capital to be found."
The marketplace provides a new way for clients to go to one portal and, there, access a multitude of complementary businesses that, once separate, are now aligned with one another on a level playing field. This creates an all-around advantage for the consumer who is ultimately looking for high quality goods and first-class service. "The marketplace will put the power of choice in the hand of the consumers by leveling the playing field across the board," Da Costa explained, "We want them to benefit from our exclusive relationships with preferred vendors."
Aside from just the expected categories for aircrafts, there is a growing base of related companies that are in the business of furnishing the accessories to a luxurious lifestyle. Destinations, in-flight catering services, and high-end car rentals will occupy much of the marketplace, and the quality and diversity guarantee that high-net-worth clients are spending their time enjoying their travels instead of doing independent research.
Categories in Private Jet's marketplace at present include:

Aircraft Charter
Aircraft Financing
Aircraft Insurance
Aircraft Maintenance
Aircraft Management
Aircraft Sales
Automotive
Catering
Destinations
Luxury Goods
Companies may request a free listing in the marketplace, and premier listings are available at cost to those looking for a more detailed business profile. PrivateJet.com screens each listing before adding to the marketplace to ensure the highest quality of service for clients.
With this addition to the aeronautics industry, PrivateJet.com is poised to become the largest hub for aircraft and luxury enthusiasts on the web.
About PrivateJet.com
PrivateJet.com is a web portal that serves private jet travelers, pilots, aviation brokers and consumers. Private Jet has implemented a "Jet-Connect Charter Bid System" and created a premier jet card for those looking for membership to an exclusive community of jet enthusiasts. Private Jet magazine will be launching in summer of 2012.
Press Contact:
Kait Payne
PrivateJet.com
kpayne(at)privatejet(dot)com
(678) 392-3914
###