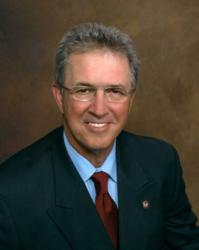 Doctors like to see and learn how to perform a procedure live.
Atlanta, GA (PRWEB) May 24, 2012
Laparoscopic pioneer Thomas L. Lyons MD, trainer of thousands of surgeons internationally over the past 22 years, will demonstrate minimally invasive gynecologic surgery techniques in Mexico City in May.
The International Society of Gynecologic Endoscopists and American Association of Gynecologic Laparscopists (AAGL) have invited Dr. Lyons, of the Center for Women's Care & Reproductive Surgery to perform surgery at their conference May 22-25, 2012 in Mexico City.
In April he participated in the 7th AAGL International Congress on Minimally Invasive Gynecology in Buenos Aires, Argentina, demonstrating Laparoscopic Supracervical Hysterectomy (a procedure he developed in 1989) as well as myomectomy (removal of fibroids while sparing the uterus) and surgical excision of endometriosis.
"It's a three-pronged approach," explained Dr. Lyons. "We'll demonstrate the technique the first time; on the second procedure we collaborate with the surgeon learning it; and on the third I oversee what they do."
From Lisbon, Portugal, to St. Louis, Missouri; from Moscow to the Mayo Clinic; from Buenos Aires to Costa Rica, Dr. Lyons is respected—and requested as an expert presenter and surgical trainer.
In June he will travel to Moscow, Russia, for the 25th International Congress on New Technologies for the Diagnosis and Treatment of Gynecologic Diseases.
Improved Outcomes for Women
The gynecologic surgeon is known for developing two laparoscopic procedures, which have demonstrated vastly improved outcomes for women.
The LSH, or laparoscopic supracervical hysterectomy developed in 1989, leaves the woman's cervix intact as a keystone support for the anatomy.
The technique has also been shown in studies to help improve sexual function post-surgery. Reasons for this include the fact that the vagina hasn't been scarred or pulled down as may occur in a laparoscopically assisted vaginal hysterectomy. Dr. Lyons has always practiced vaginal restoration as standard operating procedure for LSH and pelvic floor repair.
Since abdominal incisions are so tiny (unlike procedures performed using laparotomy or bikini incision), fewer nerves are damaged, pain is lessened, and recovery is quicker.
Dr. Lyons also developed the Laparoscopic Burch Procedure for stress urinary incontinence. It is among a variety of options for leakage and pelvic floor defects that he teaches eager trainees around the world.
In traveling to these destinations, he donates his time on ten to fifteen demonstration cases during a week while he mentors surgeons learning the minimally invasive techniques he developed.
Evolution of a World-Class Surgeon
Dr. Lyons began teaching surgeons from around the world in the late 1980s as he trained others on laparoscopic gallbladder removal. From there he began exploration and training on tubal pregnancies, ovarian cysts, fibroids, hysterectomy and endometriosis. At the present time, even certain cancers can be removed laparoscopically.
In the early 1990s, telesurgery revolutionized the field and Dr. Lyons began performing procedures in his customary operating environment while surgeons in Europe or Asia watched, asked questions and learned remotely.
"Doctors like to see and learn how to perform a procedure live," said Lyons.
He is now licensed to practice in countries throughout the world. Perhaps his most challenging international case involved the wife of the head rabbi in Israel, who required pelvic floor repair. "She had given birth to 18 children, and this was a redo of someone else's work," said Lyons. The restorative procedure was a success.
Contact at 888-545-0400 or 770-352-0037.