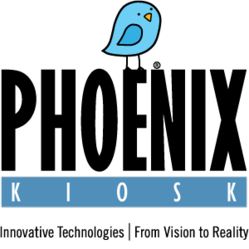 "We want to show business owners how technology can revitalize a business," Marketing Director for Phoenix Kiosk Rich Bernstein said. "Our guide points out ten lucrative or cost saving ways a small business can utilize kiosks."
(PRWEB) May 23, 2012
Small businesses make up the backbone of the American economy, but with a struggling financial scene in the U.S. many business owners are forced to cut costs. In an effort to help businesses reach their potential in troubled times, Phoenix Kiosk, a true end-to-end supplier of innovative kiosks, has created a self service kiosk business guide to help owners incorporate kiosks into their company.
While the most common kiosk known to the public is an ATM, these stand-alone machines have evolved into much more. Kiosks can serve as a receptionist, mini-retail store, even a self-check out. With Phoenix Kiosk's guide, a small business owner can explore new options to trim the fat and stay competitive at the same time.
Phoenix Kiosk offers kiosk hardware and custom kiosk software, services and support, and supplies. "There are few kiosk companies that can provide everything a business needs all under one roof," Marketing Director for Phoenix Kiosk Rich Bernstein said. "We work with each client to help them enhance their business with efficient kiosks. We don't cut cookies, we build solutions one client at a time."
That's why Phoenix Kiosk created a small business guide. The guide, found online for free on the Phoenix Kiosk blog, is designed to get business owners thinking out of the box. "We want to show business owners how technology can revitalize a business," Bernstein said. "Our guide points out ten lucrative or cost saving ways a small business can utilize kiosks."
Here's a look at some of the places a kiosk can help:
Vending Kiosk
Vending kiosks have come a long way from dispensing soda cans; they are now stocked with electronics, books and everything in between. It doesn't require any staff and is essentially a store with little to no overhead.
Reception Kiosk
A reception kiosk can be an affordable way for business owners to streamline their main lobby. Kiosks can augment or replace a receptionist. Certain kiosks offer software packages that enable visitors to speak with employees through the Internet, or through an existing network.
Check-out Kiosk
These days' customers want to get in and get out. By setting up a self-serve check out lane a shopper can pick up the items needed and check out fast and efficiently.
To learn more about Phoenix Kiosk, visit PhoenixKiosk.com.
About Phoenix Kiosk
Based in Tempe, Arizona, Phoenix Kiosk designs, manufactures, and distributes enduring, approachable self-service technologies for use in a wide variety of applications. Phoenix Kiosk provides in-house software and hardware design, manufacturing, and distribution, as well as service, support, and supplies. Phoenix Kiosk is a wholly owned subsidiary of Secure Medical, Inc.