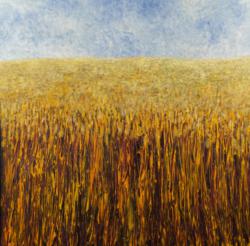 SELENE's work portrays a simplistic modern feel with rich vibrate colors that fills the heart with the passion and energy.
MOCA.V
Calabasas, CA 91302 (PRWEB) May 29, 2012
After one full year, the original Wheat Series Paintings by artist, SELENE comes down from the Gallery walls of The Four Seasons Hotel Gallery in WestLake Village, CA.
SELENE was originally asked to exhibit for 6 months at the Four Seasons Gallery Hotel, then accepted another 6 month extension to keep her work on the walls of the Gallery till April 31st. SELENE was the featured artist at the ENSELE-ART gallery in Calabasas for two years.
SELENE has been painting since childhood and is now become a name people recognize with the recent JustLikeMeProject.org project as the sole artist on that project and community projects once the tour begins nationwide. Original masterpieces are being contributed for auction at prestigious charities such as the Fireman's Backdraft Ball in Beverly Hills in June and MusicCares / 2011 and 2012 Grammys to name a few.
SELENE's contribution of original paintings has raised over $210,000.00 till date for silent auctions at charities.