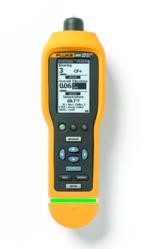 Vernon Hills, IL (PRWEB) May 22, 2012
Discover the reliable, repeatable, and accurate way to check bearings and overall vibration. The Fluke 805 Vibration Meter from Davis Instruments features an innovative sensor and sensor tip design which helps minimize measurement variations caused by device angle or contact pressure. Use this handheld screening meter for frontline mechanical troubleshooting teams that need repeatable, severity-scaled readings of overall vibration and bearing condition.
The Fluke 805 Vibration Meter delivers consistent data quality at both low and high frequency ranges. Four-level severity scale assesses urgency of problems and provides exportable data via USB. Trends can be documented in Excel® using built-in templates. On-board memory holds and saves up to 3500 measurements.
The overall vibration measurement (10 Hz to 1000 Hz) for acceleration, velocity, and displacement units of measurement accommodates a wide variety of machines. The Crest Factor+ provides reliable bearing assessment using direct sensor tip measurements between 4000 Hz and 20,000 Hz. A colored lighting system and on-screen comments indicate how much pressure needs to be applied to take measurements. Noncontact temperature measurement with Spot IR Sensor increases diagnostic capabilities.
For more information, go to http://www.davis.com/19189 or call 800-358-5525.
Davis Instruments has been one of the world's leading sources of test, measurement, control, and calibration instruments since 1912. With expanding capabilities in industrial spheres such as power and utilities, petrochemicals, aerospace and electronics production, field services, and construction, the organization continues to respond to technological demands. Based in Vernon Hills, Illinois, Davis Instruments is dedicated to providing customers with excellent service and product applications expertise. For more information, contact Davis Instruments, 625 East Bunker Court, Vernon Hills, IL 60061. In the U.S.A. or Canada, call 800-358-5525. International customers, call 847-327-2000. Visit us at http://www.davis.com.