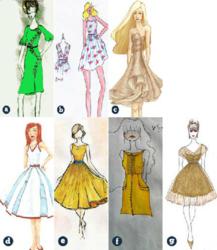 "I am thrilled to see the first collection from our Make the Cut contest come to life, because it is the start of a larger program that will give aspiring designers the opportunity to jump-start their careers in fashion." -Susan Gregg Koger
San Francisco, CA (PRWEB) May 23, 2012
Innovative online retailer ModCloth is launching its first private label collection. The Make the Cut: Premiere Collection is comprised primarily of crowdsourced designs that were voted on and selected by its community. Ten items exclusive to ModCloth.com launched on May 23rd: seven from designs submitted during a community contest held in November and three inspired by Co-Founder and Chief Creative Officer, Susan Gregg Koger.
On the heels of a new funding round led by Norwest Venture Partners, ModCloth views the launch of these items as a significant development in its mission, which is to empower its global community to directly influence and contribute to the production of unique and inspiring merchandise. ModCloth's new capital will be used to expand other community-centric programs, most notably its Be the Buyer program, which allows customers to vote items from emerging designers into production, and which just surpassed 12 million votes.
For the inaugural Make the Cut Contest, which launched in November, Koger created a mood board that represented the brand's vintage-inspired aesthetic and inspiration for spring and asked participants to submit design sketches that aligned with this vision. Susan and her team reviewed over 1,900 entries and selected 90 final designs to post on Facebook for a community vote. With a Facebook following of over 500,000 highly engaged fans, ModCloth received tens of thousands of votes, as well as constructive and thoughtful comments during the five-day voting period in mid-December.
The winning designers represented a wide range of ages and professions, with high school students, fashion design students, veteran sewers, and costuming connoisseurs all part of this gifted group. The styles themselves also displayed dynamic diversity, with inspirations ranging from sand dunes to the cooking spice turmeric to Old Hollywood style. As part of their prize, the winners will receive $500, and their name will appear on the garment's tag.
Always an avid thrifter, Susan started ModCloth the summer before she entered Carnegie Mellon University as a way to sell the one-of-a-kind vintage fashion and decor finds she'd been collecting. The Make the Cut contest embraces her long-standing beliefs that fashion should be inclusive and accessible to all, and that everyone should have a voice in it. "I am thrilled to see the first collection from our Make the Cut contest come to life, because it is the start of a larger program that will give aspiring designers the opportunity to jump-start their careers in fashion more than anything we've previously been able to do as a brand," says Koger. "With our recent funding round backed by NVP, I envision ModCloth being in an even better position to expand our work with emerging designers to get their items manufactured for the first time."
The second Make the Cut Contest was held in March with a 1960s Back-to-School theme. The winning items from that contest will launch as a collection in September. ModCloth plans to launch another contest this summer with a holiday design theme.