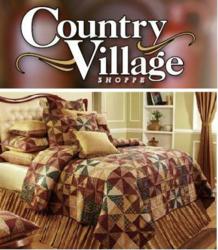 [Country Village Shoppe] provides an impressive range of choices, including a wider array of colors, sizes and styles.
Appleton, WI (PRWEB) May 24, 2012
Since 2006, Country Village Shoppe has been the best place to shop for country home decor. Now, in order to better serve its faithful customers and procure first time visitors, the Country Village Shoppe is pleased to announce its expanded catalog of country quilts.
The recent change stems from the acquisition of new quilt patterns. Previously, Country Village Shoppe had 13 homey country patterns from which to choose. With the new additions, customers can now select between 36 distinctive options, all with the country feel that has made Country Village Shoppe so popular. This provides an impressive range of choices, including a wider array of colors, sizes and styles. Consumers may consider the classically simple choices, such as Devonshire Black, or may prefer the more traditional options like Star Dance. Other choices include the subtly patriotic America and the timeless pinwheels of Weathervane.
While browsing quilt options, site visitors can shop for even more than a country quilt. Most patterns also have associated products available. Along with a quilt purchase, you can browse an assortment of country curtains that will match nicely with your quilt pattern. Other coordinated items may include throw pillows, pillow cases or even a bed scarf. In short, it is easy to decorate an entire room with the great variety and newly expanded inventory at Country Village Shoppe.
The options at Country Village Shoppe don't end there. Customers can expect a full country sampler to choose from, including homey items such as candles, baskets and more. The online catalog provides an impressive collection of distinctive signs and even down-home food items. The store also carries a variety of seasonal items, allowing you to expertly coordinate the perfect country look any time of the year.
Country Village Shoppe remains dedicated to offering customers the best options for country home decor and plans to continue expanding its selection as sales increase. For more information on country quilts and other country decorating items, visit countryvillageshoppe.com.
About Country Village Shoppe:
Country Village opened its doors in Appleton, Wisconsin in 2006. Owned by a mother/daughter team, we strive for the very best in product selection, quality and customer service. At Country Village, country is not just a style of decorating, but a frame of mind. We are re-defining country! Create your own personal escape from the outside world and relax in your own home, decorated to suit your style. Browse our vast inventory of country home decor items including country curtains, quilts, candle sleeves, rugs and more! Whether you are looking to decorate a whole house or simply add an accent to a room, Country Village can help you decorate your dream home.