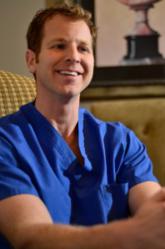 A Little Bit of Hollywood Arrives in the Queen City
Charlotte, North Carolina (PRWEB) May 23, 2012
With extensive Hollywood training from the best in Beverly Hills, CA, Jonathan Kulbersh M.D. is returning to his homeland area of the Carolinas. Dr. Kulbersh will be starting a new plastic surgery practice that treats only conditions of the face, Carolina Facial Plastics with an office in Charlotte, NC. There will be a future office in his hometown of Columbia, SC. The sole focus of his training and his practice lies in the head and neck, the most visible and communicable areas of the body. His aesthetic principle relies on enhancing ones natural beauty by creating a more proportional face to produce harmonious and natural results. Dr. Kulbersh's office will be in the same building as renowned cosmetic dentist Dr. Broome, providing his patients with an ideal opportunity to receive custom-tailored procedures that practically utilize the expertise of both doctors.
Dr. Kulbersh appeared on The Real Housewives of Beverly Hills as a result of a highly competitive fellowship under Dr. Paul Nassif, who is the husband to Adrienne Maloof, known for her work on the show. As a result of this training and his personal tutelage by some of the best doctors in facial plastic surgery, Dr. Kulbersh has become one of the most highly qualified facial surgeons available, which has been enhanced by his intense focus on the facial surgery specialty.
After growing up in Columbia, SC, Dr. Kulbersh attended the University of Georgia and graduated Magna Cum Laude and Phi Beta, earning a degree in Human Genetics. From there he attended the Medical University of South Carolina (MUSC), and again achieved high honors, gradutating in the top ten percent of his class. Following medical school was an intensely competative residency and two advanced fellowships in the Southern California area.
Work in the local and international community is of particular importance to Dr. Kulbersh, who has done extensive work in other countries treating cleft lips, cleft palates and the effects of violence. He will be waiving his surgeon's fee for victims of domestic violence or abuse within the Charlotte community who wish to receive treatment. He will also be creating an institute to help patients in the Carolinas that have lost their ability to move their face, facial paralysis. Carolina Facial Plastics will be opening on June 18th in Charlotte, NC, with plans for a second location in Dr. Kulbersh's hometown of Columbia, SC.
Carolina Facial Plastics
6849 Fairview Road Suite 200
Charlotte, NC 28210
Phone – 702.323.5090
Drkulbersh(at)carolinafacialplastics(dot)com
PRESS RELEASE
Contact: Kathleen Ritz, Ritz Marketing, Inc.
Chief Marketing Officer
Office: (704) 358-9202