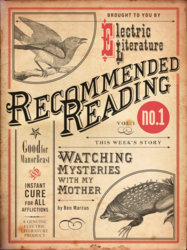 Recommended Reading makes the digital personal.
Brooklyn, NY (PRWEB) May 23, 2012
http://recommendedreading.tumblr.com/ Great authors inspire us. But what about the stories that inspire them? Today, Electric Literature releases Recommended Reading, a free digital magazine that publishes one story a week, each chosen by a great author or editor. In the age of distraction and content overload, personal recommendations from authors like Michael Cunningham and One Story editor Hannah Tinti have the power to cut through the noise.
With online shopping and instant queues, consumers rely on technology to decide how to invest their time. But these suggestions are based on algorithms designed to drive sales, there's no passion behind them. "Recommended Reading makes the digital personal," said Halimah Marcus, co-Editor of Recommended Reading. "Each of our guest editors will write a note to accompany their recommendation and share their enthusiasm with readers."
Recommended Reading is the first major literary magazine to publish directly to Tumblr, the popular blogging platform and social network. "Great stories are meant to be shared, not only by publishers but also by the people who read them," said co-Editor Benjamin Samuel. "We're all accustomed to sharing the things we like via social media, and Recommended Reading will use Tumblr to make that inclination a natural part of the magazine."
By publishing for free on Tumblr, Recommended Reading makes diverse literature easily available to anyone, including the platform's built-in community of 56 million. "The Tumblr community is passionate about reading and writing, as well as about sharing things they love," said Rachel Fershleiser, Tumblr's Director of Literary Outreach. "We're thrilled to have this innovative publication launching on our platform."
The first issue, released today, features a new story by Ben Marcus, with a Single Sentence Animation by Edwin Rostron. Future guest editors include Aimee Bender, Jim Shepard, and Nathan Englander, as well as over twenty independent publishing partners such as New Directions and Tin House. Recommended Reading will be available online, in ePub format and on the Kindle store, and readers can subscribe via email, Tumblr, or get updates by following Electric Literature on Facebook and Twitter.
Recommended Reading's Kickstarter campaign was fully funded in 48 hours and raised over $18,000, demonstrating the need for a different kind of magazine. By embracing new technologies and eschewing a printed version, Electric Literature will minimize overhead costs, allowing them to offer Recommended Reading for free while still paying writers. In addition to these start-up funds, the magazine will be supported by exclusive issue sponsors, grants, and merchandise sales. The sponsor of the first issue is digital literary magazine Shelf Unbound.