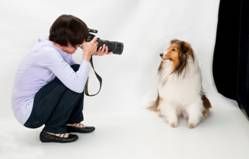 "My conclusion is: dogs are the BEST to photograph"
Palo Alto, Calif (PRWEB) May 24, 2012
DigiLabsPro which provides professional photographers with a comprehensive and flexible online proofing and fulfillment solution, today announced it latest guest on its blog, Jann Tenenbaum from Hingham, Massachusetts -- a prominent and experienced dog photographer. On the blog she shares some ideas and tips.
"I have been a photographer for thirty five years. I have photographed Queens, many Princes and Princesses, a Pope, a President, a few Prime Ministers, rock stars, movie stars, singers, writers, artists, too many sports, and sadly quite a few disasters. My conclusion is: dogs are the BEST to photograph," stated Jann on DigiLabsPro Blog.
Bryan Passanisi, online marketer, adds "Each month we feature a photographer that is generous to share his/her experiences and ideas with the fellow photographer; having Jann with her unique experience and knowledge is really something special. We hope that our many readers in the pro photography community will drive value and joy from here insight."
DigiLabsPro blog is distributed to more than 20,000 professional photographers and is happy to be a stage to photographers sharing years of experience with the pro photographer community.
From time to time the blog also offers new product highlight, marketing tips, and other useful information for the pro photographer community.
About DigiLabs Pro
Since 2001 DigiLabs Pro has been an innovator in product and technologies designed for professional photographers. With its free workflow software professional photographers can:
Upload richly customized ecommerce enabled web galleries with studios' look & feel
Create & order photographic lab services including flush mount albums, prints, proof prints and photographic proof books as well as other pro products like Gallery wraps, Coffee Table Photo Books, Cards, and Calendars.
Media Contacts
Anna Krebs
DigiLabs Pro
650-390-9749
press(at)digilabspro(dot)com