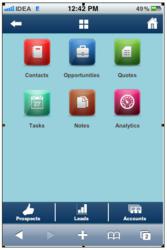 "SutiCRM Mobile 1.0 improves productivity across the enterprise by enabling updates and information out in the field." - said N.D. Reddy, founder and CEO of SutiSoft, Inc.
Los Altos, CA (PRWEB) May 23, 2012
SutiSoft Inc., a trusted provider of hosted and enterprise solutions today announced the release of SutiCRM Mobile 1.0, extending its CRM capabilities to popular mobile devices. All marketing and sales activities can be managed anywhere and anytime from popular mobile devices such as iPad, iPhone and Android based mobile platforms.
The release improves productivity of employees, lead conversion rates, visibility for managers and provides flexibility to access information from anywhere.
SutiCRM Mobile allows traveling users to keep updated of all activities in the marketing and sales cycle directly from their mobile device. Quickly create prospects, leads, accounts, contacts and opportunities. Search records using filter criteria, convert prospects to lead, qualify leads to opportunities, view details of quotes, assign tasks, capture notes and view analytic reports.
Existing SutiCRM users can directly access SutiCRM Mobile using their existing login credentials.
SutiCRM is available in multiple versions: Small Business and Corporate/Enterprise. Pricing starts at $5.95/per month/user. Visit http://www.suticrm.com for more info.
About SutiSoft Inc
SutiSoft Inc. is a privately held company founded by N.D. Reddy, a successful Entrepreneur with over 30 years of experience in both the Hardware and Software industry as a Founder, and CEO. The Company's leading edge enterprise/SaaS application software products range from business productivity solutions such as Electronic Signature, Expense Management, Document Control Systems, Governance, Risk and Compliance, Security Solutions and others. The company's products are developed using Java, Flex, HTML 5, AJAX and other cutting-edge technologies which allow SutiSoft to retain its core values which are Simple, Scalable, Secured, and Seamless. Headquartered in Los Altos, California USA, SutiSoft has offices in Northern California, India, Germany and Japan. Additional information is available at http://www.sutisoft.com.