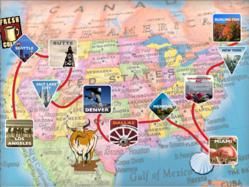 Our course is designed to promote driver safety and confidence in our students for life
San Francisco, CA (PRWEB) May 24, 2012
New to the online drivers ed market, igottadrive.com is poised to become the next leader in the highly competitive market. Igottadrive.com launched a dynamic product and price campaign, which began late last week, featuring ads on Pandora and Google's Adwords. With a competitive price of $14.95, and stellar product offerings, igottadrive.com provides students a true advantage in getting their permit. Their main product could be described as one of the best online drivers education courses available for teens based on its ability to keep students engaged and maintain high content retention rates.
"Our course is designed to promote driver safety and confidence in our students for life," said Justin Pruskowski, founder and CEO of igottadrive.com. "Teen driver safety is not just a passion - it's in our DNA."
Of the 14 states that allow online drivers education, California is one the most competitive markets. However, California also has the highest population of teen drivers in the nation and was one of the first states to approve online options for drivers education. The California drivers ed market offers a full spectrum of course providers with various values and price offerings. On the customer side of the market, price, quality, and efficiency rule the decision process.
Drivers education is typical administered in a classroom over the course of two weekends and takes 30 hours to cover all the state mandated materials. This puts an additional demand on both the student and the parent to accommodate for this off-hour course. Online drivers education is a great solution for students. A state certified course paired with content retention techniques is key for students obtaining their permit and igottadrive.com is the valued solution.
Igottadrive.com built their drivers education course not only around the state mandated content but also around the necessary foundation for basic driver safety. The true advantage to igottadrive.com's online drivers ed program is content retention, a program that is proven to work. Designed and created by a combination of academia professionals and content specialists, the course content is derived from a combination of driver education resources, driving instructors, driving tips, and students. The course coupled with the price of $14.95 defines the new level of value and quality students need to be successful in passing their permit exam.
Summary
Price, quality, and efficiency are customer demands that determine the future of any online drivers education company. Across the nation online drivers education options are leading the way with quality content and dynamic retention techniques. Allowing students to propel themselves to success with their DMV permit exam with a low price point is crucial to gaining market share in this competitive market environment. igottadrive combines quality and value to promote safety and success for every student in the online drivers ed community.
About igottadrive.com:
Igottadrive.com was founded by The Driver Training Group an industry Leader in traditional integrated driving school programs. Headquarters located in Redmond, Washington with offices in San Francisco and Petaluma, California. Staff consists of driving instructor trainers, driving instructors, educational and training program development staff, and computer program developers. http://www.igottadrive.com phone: 877 336 6872.