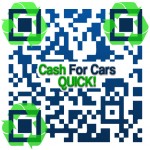 Recycling Los Angeles, one car at a time!
Los Angeles, California (PRWEB) May 26, 2012
Cash For Cars Quick (http://www.cashforcarsquick.com) has taken a large part of the Los Angeles cash for cars market, and with this final figures in the company still feels it can earn more business in the Los Angeles market and surrounding cities.. The company will buy any car or truck and process it for recycling and pay the vehicle cash for it. Instead of simply crushing cars for the landfill, they work with recyclers to strip them of their reusable parts and then melt down the rest of the metal. The metal is then made into new products ranging from steel for more cars, to structural beams for buildings. This process allows the company to pay for cash for cars in Los Angeles instead of charging to haul them away. The company offers this service all over the United States.
"So-called junk cars or trucks are actually worth a surprisingly large amount of money and their cash for junk cars Los Angeles service pays between $100 and $600 for most cars. Larger SUVs and other such vehicles can bring in even more money.
CashForCarsQuick.com is breaking the old "junkyard" image too, and is using new technology in many ways. The company realizes that the way in which people search for recycling ideas and hauling, as well as the way they can reach their clients, has greatly changed over the years. It has now been an ongoing mission for the companies Director's to use internet marketing experts by using an SEO professional to help spread their message of recycling vehicles to a younger audience. "It is important for the residents of Los Angeles and all the US to understand the importance of automotive recycling and all recycling for that matter," states Mr. Leonard."
According to Reuters online, over 14 million cars are scrapped on a yearly basis. This, however, is only 80 percent of the number of new cars made in a year, based on the U.S. Governments' Department of Transportation's numbers. To a company like CashForCarsQuick.com, this means that up to twenty percent of old cars are still sitting around in yards and garages around the country. They want that twenty percent to mean dollars to the owners, and recycling instead of landfills for them and the vehicles.
Cash For Cars Quick believes with the large amount of vehicles in Los Angeles, there are a lot of cars or trucks that may be not being recycled. Sellers need only call their toll-free number at (888) 862-3001 or fill in the form on their Website to arrange to have the car picked up the same day. In most cases, a tow truck will arrive within 24 hours to take the vehicle away. Even though larger cars tend to be worth more, thanks to their increased metal content, smaller vehicles are also worth a large amount of money also - even if they don't run. Also, the company gives an instant quote for the vehicle before taking the car away, so is no confusion of the vehicles value.
Sellers should keep in mind that since the cars will be stripped of useful parts and then melted down, they do not have to be running in order to qualify for the junk car buying service. While the company bases its quotes in part on what's wrong with the car in question, they will even accept vehicles that have been abandoned and rusting for years and offer free junk car removal.
CashForCarsQuick.com believes that there are many reasons to get rid of an old car besides its cash value. Broken-down old cars can often very expensive to fix, they also tend to need a series of repairs. Old cars often leak oil, which can then get into groundwater as well as ruin the environment underneath the car. Finally, worn out old cars are ugly. Many local ordinances prohibit storing broken down or wrecked cars on residential property for this reason and Los Angeles is no exception.
Since we offer a free tow for junk cars and a competitive price for their vehicles, there is no reason to abandon a vehicle. Mr. Leonard reflects, "There was a time when a car owner would have to pay a junkyard to take a non-running car away." This has changed since the value of salvaged metal has gone up. Now it's easy to find buyers in Los Angeles to give cash for junk cars that run poorly or don't run at all http://cashforcarslosangeles.cashforcarsquick.com/
Cash For Cars Quick is an automobile recycle company that operates in Los Angeles and all over the United States. It works with companies to help recycle cars by removing all of the useful parts. The remaining metal is then melted down for recycling. They are able to offer fast service thanks to their network of towing companies and recycling firms. The company is committed to its customer car and offers a satisfaction guarantee to its clients.
Contact:
Web: http://www.cashforcarsquick.com
Phone: (888) 862-3001