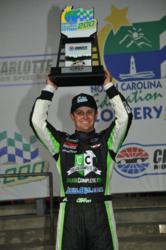 I am a mother of four and education is very important to our family. CollegeComplete.com is an excellent online resource for FREE college advice. The website is very easy to navigate and I would recommend CollegeComplete.com
Sea Cliff, NY (PRWEB) May 22, 2012
Two weeks before College Complete and Justin Lofton arrived in Charlotte for the North Carolina Education Lottery, they announced their first fan contest of the year. Fans simply registered on the CollegeComplete.com website and followed Justin (@jlracing) and College Complete (@CollegeComplete) on Twitter. In the event that Justin placed in the top 3 positions in the race, CollegeComplete.com would give one registered fan $1,000.
Building on what has been an incredible 2012 season for Justin and team College Complete, everything came together Friday night in Charlotte and Lofton not only placed, but WON the North Carolina Education Lottery 200, beating Sprint Cup driver Brad Keselowski in the race's final restart.
Monday morning, College Complete CEO Daniel Haim placed a call to the lucky contest winner, selected at random from over 300 registrants.. Caitlin Perkinson, was on the other end of the phone and was elated to hear the news. "I am a mother of four and education is very important to our family. CollegeComplete.com is an excellent online resource for FREE college advice. The website is very easy to navigate and I would recommend CollegeComplete.com as an informative site to explore your future education options! Thank you so much!!"
"It was my pleasure to be able to call our winning fan, Caitlin Perkinson, and let her know that she would be receiving a check from College Complete" said Dan Haim. "Hearing her excitement on the other end of the phone was amazing…second only to the excitement Justin gave us Friday night when he won the North Carolina Education Lottery 200."
This was one of many fan loyalty contests that College Complete and Justin Lofton will put forward this year. After having already given away CD's, T-Shirts and trading cards, College Complete and Justin Lofton will continue to give back to the fans throughout the season. Fans are encouraged to continue to visit the CollegeComplete.com website and on Twitter @CollegeComplete and @JLRacing to ensure that they are involved in as many contests as possible.
A free service, College Complete Education Advocates are standing by, ready to assist you in pursuing your education needs including vocational training, certificates, associates degrees and more.
About College Complete
Partnered with hundreds of educational institutions and across all types of education goals, including traditional college degrees, trade and vocational certifications, and professional licensure, College Complete helps students assess all of the information that exists in the public domain, allowing them to understand and make sense of their educational opportunities. Their services are free and available to anyone. Whether you are interested in Art and Design, Business, Computers and Technology, Criminal Justice, Education, Healthcare and Medical, Science and Engineering, and much, much more; if you're an Electrician, a Nurse, an Automotive Mechanic, a Teacher, a Police Officer, or you're simply interested in learning Computer Programming, Networking, Web Development, or Graphic Design College Complete is available for you at no cost. You can reach them by filling out a form on their site or calling to speak with your personal Education Advocate at 877-543-2655. College Complete has an initiative to assist those in the US Armed Forces and their families and is able to assist in identifying schools that will not only provide the educational requirements of the soldier, veteran or family member but will do so in a cost effective manner.