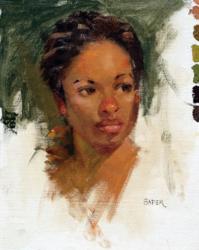 "Inky", above, is a demonstration I recently completed for my students, underscoring the tradition and importance of working from the live model.
Scottsdale, AZ (PRWEB) May 27, 2012
Beginning June 4th, 2012, the Northern Trust Bank of Scottsdale (Gainey Branch) will host artwork by Arizona artist Chris Saper and other selected faculty from the Scottsdale Artists' School in a 6-month show in partnership with the School.
Instructor Chris Saper has painted commission portraits for more than 22 years, and has taught artists of all levels her craft since 2004. She has authored two instructional books and 4 DVDs, all of which focus on understanding the nuances of light and skin color.
The Scottsdale Artist's School, founded in 1983, has long been a crown jewel in the fabric of the larger art and cultural community surrounding it.
The exhibit is free and open to the public during regular banking hours and all work is for sale.