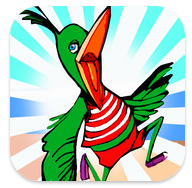 Amazing fun for kids ages 5-9...
Fort Lauderdale, FL (PRWEB) May 23, 2012
Military families have a new tool to help manage extended periods of deployment with the new children's book app release announced by kids book author Tatyana Mironova.
The new story app for iPad and iPhone is a narrated adventure story, but allows for parents to record themselves reading the book allowing for playback when separated.
The adventure story app entitled, "Lazy Bird", is available at the iTunes app store and according to the developer is ideal for kids ages 5-9. The story details the adventures of the Lazy Bird named Frank and various friends he meets along the way.
"I wanted to give something back to servicemen and women who sacrifice so much being away from their family for extended periods," said Mrs. Mironova.
"We added a feature so that children can hear their father or mother read them their favorite story while away on deployment or unavailable because of the demands of the service,"
The app includes an acted out voice narration that allows the book to be read, or users can opt to create their own narration.
Fans of the popular kids book app are encouraged to leave feedback and suggestions for further addition to the app as the developer plans to add more features with future updates.
Contact:
Tatyana Mironova, Apps for Kids Author
http://itunes.apple.com/us/app/lazy-bird/id524743398?mt=8