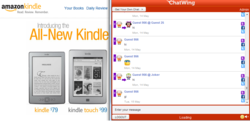 New York, NY (PRWEB) May 22, 2012
Even though its heyday has already passed, there are still lots of people who rely on Kindle when it comes to a personal reading experience. This is because of numerous recommendations and reviews related to eBook reading applications. A lot Kindle users are actually avid eBook fans and those ones who want to enjoy afternoon reading escapades. Chatwing, an advanced web chat app, is now being an occasional online hang-out place of Kindle users. This communication chat box helps Kindle users make more friends and gather enough eBook sources.
Chatwing is a versatile chat tool and it is highly regarded in different online communities because of its strong features. One of Chatwing's core features is social media integration. Through this, people can use Facebook to expand their social networks. Adding to that, they can also go for Twitter to find more followers. Chatwing may appear as a simple shout box, but it is actually jam-packed with thousands of topics that anyone can discover. Additionally, people can use Chatwing's chat widget avatar displays and emoticons to make discussions more interesting and fun.
Kindle users who are also bloggers can rely on Chatwing when it comes to online presence. Some bloggers have referred to Chatwing as an immediate 'visibility booster' that can be installed in under few seconds. Unlike other chatrooms, Chatwing offers a high customization rate and full admin support at all times. Also, Chatwing operates in a strong platform that is constantly maintained by its elite development and research team.
Chatwing also has an active Facebook page that Kindle users can discover. This page is loaded with useful content that can show the real effects that a Chatwing can do for a blog or website. "We are really gaining ground because of our loyal users. To offer our gratitude, we ensure these people that their website chat experience will be remarkable at all times. Everyone deserves a top-rate service," says Michael Diamond, a developer for Chatwing.
About Chatwing.com
Chatwing.com has developed live chat software for websites and blogs. It caters to different online communities due to its high rate of connectivity. Everyone can create a customizable live chat widget in 1 minute or less. Users have the ability to customize the size, color, and fonts of the chat product. The ability to chat via social media accounts such as Facebook and Twitter enable Chatwing to offer a personal and unique real-time experience to all sites. Chatwing is 100% free and very easy to use.