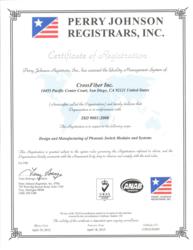 San Diego, CA (PRWEB) May 23, 2012
CrossFiber Inc. announced today that the Company's Quality Management System has been certified to ISO 9001:2008 standards by registrar PJR Inc. CrossFiber provides optimal photonic (all-optical) switching solutions for data centers and fiber optic telco networks. Thanks to breakthrough innovations, CrossFiber LiteSwitchTM family of photonic switches offer industry-leading convergence of performance and cost.
"We are pleased to have been certified to international ISO quality standards at our first attempt, as we rapidly ramp our production of LiteSwitch(TM) products in order to satisfy high demand from data center and telco customers," said Hus Tigli, President and CEO of CrossFiber.
ISO 9001:2008 standards provide assurance about a company's ability to satisfy quality requirements and to maintain and enhance customer satisfaction. These standards are maintained by the International Organization for Standardization (ISO) and administered by accreditation and certification bodies.
About CrossFiber
CrossFiber develops and manufactures breakthrough photonic switches, based on proprietary technologies which combine 3D MEMS micro-mirrors on silicon, non-invasive beam steering (NIBS), and custom ASICs. CrossFiber's unique combination of performance and cost makes LiteSwitch(TM) modules the most suitable across all major applications in data centers and telco fiber switching. More information can be found at http://www.crossfiber.com.
###