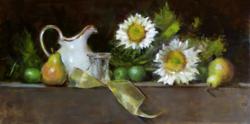 It's an honor to join so many other talented artists in this Sedona show, in one of the most beautiful natural venues imaginable.
Sedona, AZ (PRWEB) May 29, 2012
Arizona artist Chris Saper, nationally known for her portrait paintings, will exhibit the lush, color-drenched still life work for which she is rapidly being recognized during the one-month "New Perceptions" show at the Sedona Art Center Gallery.
The show's Opening Wine Reception will be held June 1, 2012 from 5:00 - 8:00, at the Sedona Arts Center's gallery and will feature work by artists juried into the gallery during the past six months.
Over the past 22 years, Saper has delivered nearly 400 commissioned portraits to clients nationwide. She has most recently authored "Classic Portrait Painting in Oils: Keys to Mastering Diverse Skin Tones", and has also published 4 instructional DVDs. She is an active instructor, lecturer and demonstrator.