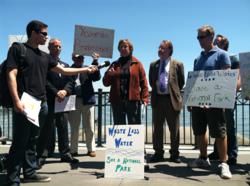 If we waste less water we can save a national park. Like John Muir's original journey to Yosemite, we will only get there if we take the first step.
San Francisco, CA (PRWEB) May 23, 2012
A former Superintendent of Yosemite National Park stood together with environmental and conservation groups this afternoon to officially launch a petition drive to qualify the Water Conservation and Yosemite Restoration Initiative for the November 2012 San Francisco ballot. They gathered at the San Francisco Ferry Building, the location from which famed environmentalist John Muir embarked on his first, historic hike to Yosemite, arriving there 144 years ago this week. Muir vigorously opposed the clear-cutting, flooding, and destruction of Yosemite's Hetch Hetchy Valley, which he called "one of nature's rarest and most precious mountain temples."
"This initiative is the first step toward creating a second Yosemite," said B.J. Griffin, Former Superintendent for Yosemite National Park between 1995 and 1997. "Our national parks have enormous spiritual, emotional, physical, and recreational value to the American people. Yosemite is the 'Gold Standard' of our national park system. I am proud to endorse this initiative because it is a rare opportunity to create a second Yosemite for all Americans to enjoy."
Former Yosemite Superintendent Griffin was joined by Mike Marshall, Director of the Yosemite Restoration Campaign and Ron Sundergill, Pacific Region Director for the National Parks Conservation Association, which is backing the initiative along with environmental groups such as Friends of the River and the Sierra Nevada Alliance. The groups have until July 9th to collect 9,702 signatures from San Francisco voters to qualify the Water Conservation and Yosemite Restoration Initiative for the November ballot.
If approved by San Francisco voters, the Water Conservation and Yosemite Restoration Initiative will require the city to create a comprehensive plan to move San Francisco from last in the state to first in the nation in water sustainability and to allow Hetch Hetchy Valley in Yosemite National Park to be restored. Before any actions could be taken, voters would have to vote to approve this plan in November 2016.
"Our message to San Francisco voters is simple," concluded Mike Marshall, Director of the Yosemite Restoration Campaign. "If we waste less water we can save a national park. Like John Muir's original journey to Yosemite, we will only get there if we take the first step."
ABOUT THE YOSEMITE RESTORATION CAMPAIGN:
The mission of the Yosemite Restoration Campaign is to reform San Francisco's 19th century water system to allow for the restoration of Hetch Hetchy Valley and the Tuolumne River in Yosemite National Park. It is a non-profit, 501 (c)(4) organization. http://www.YosemiteRestoration.org