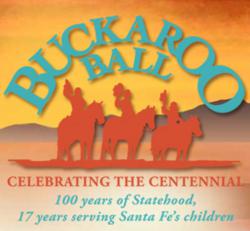 Santa Fe, NM (PRWEB) May 22, 2012
The Buckaroo Ball has raised $7 million for organizations supporting children at risk in Santa Fe County since its inception 17 years ago. In 2011 the Foundation granted $112,000 to 13 Santa Fe organizations. This year's event is a two-day affair, scheduled for 6 to 9 p.m., Friday, June 15, and 6 to 9 p.m., Saturday, June 16. This is a Santa Fe visitor guide SantaFe.com event calendar "Featured Event".
The Friday night party in the Farmer's Market building features music by SXSW, a live and silent auction, raffles, appetizers by Whole Foods Market and the main menu from the Hotel Santa Fe.
Presenting sponsors are Hotel Santa Fe Hacienda and Spa, Chalmers Capitol Ford Lincoln and the Santa Fe Catalogue. Other sponsors for the event include Los Alamos National Bank, Coca-Cola Bottling Co. of Santa Fe, Barker Realty Santa Fe Luxury Collection, Wells Fargo Bank, Fabu-wall-ous Solutions LLC, Whole Foods Market Cerrillos, essential guides, IATSE Local 480, Century Bank, the Santa Fe New Mexican, Gateway Mortgage Group, 107.5 Outlaw Country, Hutton Broadcasting LLC, SantaFe.com, UBS Vasquez Portfolio Group, New Mexico Bank and Trust, First National Bank of Santa Fe, David Naylor Interiors and Dick & Judith O'Connor.
Saturday is a free Buckaroo Barn Dance and concert featuring the Paula Nelson Band. Her father, Wilie Nelson, played for the very first Buckaroo Ball. The show starts at 6 pm by the Water Tower.
Ticket Info: Purchase Tickets Online Adults: $100
Tickets are on sale at http://www.buckarooball.com and are required for Friday nights' event. Saturday's concert and dance is free.
About The Buckaroo Ball Foundations
For 15 years, the Buckaroo Ball Foundation has been dedicated to its mission of raising and distributing funds to non-profit organizations that serve at-risk youth in Santa Fe County. Buckaroo Ball Foundation is now a fund within the Santa Fe Community Foundation. The Ball is run by a group of dedicated volunteers who donate their time and resources to produce what is one of the largest and liveliest fund-raising weekends in the Southwest.
The Buckaroo Ball is produced and managed largely by the volunteer members of the Buckaroo Ball Foundation, and by hundreds of community volunteers. The money that is raised through the Buckaroo Ball is used to produce the event itself and to support our grant recipients.
About SantaFe.com/Hutton Broadcasting
SantaFe.com provides locals and visitors to Santa Fe alike the most current interactive platform for events, music, arts, business, dining and lifestyle. SantaFe.com is a division of Hutton Broadcasting, located at 2502 C. Camino Entrada, Santa Fe, NM 87507
Contact Information:
Scott Hutton
SantaFe.com / Hutton Broadcasting
http://www.santafe.com
(505) 471-1067 (Media inquiries only, please)