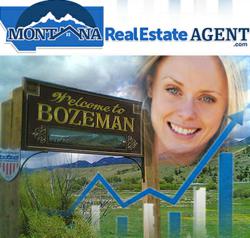 Bozeman Montana Real Estate Market Gaining Attention of Buyers and Investors
Bozeman, Montana (PRWEB) May 22, 2012
Montana real estate may be one of the most sought after opportunities for lifestyle in America, yet the entire state has a population of just under 1-million people. For decades the biggest draw back for buyers was the cost of housing as Montana became a safe haven for the rich and famous which drove the prices up. While home values were not hit as hard by the recession as other states in the USA, Montana has become affordable again for Americans and foreigners looking for a second opportunity. MontanaRealEstateAgent.com reports sales state wide in the first quarter of 2012 have been the strongest in 5-years due to current value.
Kritanya Lambert, a licensed real estate agent in Bozeman, Montana, says it's currently a buyers market with a diversified inventory. Lambert who is also licensed in Wisconsin and Las Vegas, Nevada has a unique perspective on the Bozeman real estate market. Currently there are approximately 570 homes for sale in Bozeman and 110 condos. She notes that a little over 80 properties sold over the last 30-days leaving Bozeman with approximately 6-month of inventory.
Lambert is advising buyers and investors to take advantage of Bozeman homes for sale before inventory decreases and the best deals of Spring and Summer are gone. Based off her Las Vegas experience where the inventory went from over 15,000 units to under 5,000 in just the last 6-months, she is reiterating the urgency. Buyer who bought in Vegas over the last 6-months were able to take advantage of the lowest prices in 20-years for that market. Lambert affirms it's all about making your offer first and getting the property you want before someone else does.
Bozeman has been cited by CNNMoney, Forbes, Outside Magazine and may other popular media companies over the years along with being awarded "Top All-American Dream Towns". With median prices on homes for sale in Bozeman at $285K, Lambert anticipates record sales as tourist season hits thru July and August. She has recently acquired a toll free number for out-of-state buyers and can reached at 1-888-699-0220. Current listing on Bozeman homes and condos to include Big Sky real estate can be viewed online with images at http://www.MontanaRealEstateAgent.com