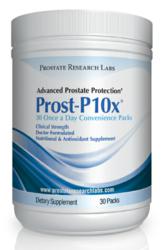 For my money, one of the best prostate formulas on the market (Bill Gottlieb, Author of "Beyond Saw Palmetto: Best Ways to Beat an Enlarged Prostate" and former Editor of Prevention Magazine)
Irvine, CA (PRWEB) May 23, 2012
Prost-P10x is the leading clinical grade prostate health program formulated by the No.1 Naturopathic Doctor in the US. Prost-P10x now includes therapeutic dosages of 12 active ingredients including Graminex (G63™) Pollen Extract, Quercetin, Meriva® Curcumin, DIM and Beta-sitosterol as well as 7 other ingredients shown in the clinical trials to be supportive in the restoration of prostate health.
Prostate Reasearch Labs also made the following announcements today:
1. The reduction of the Prost-P10x daily dosage to 6 capsules a day in each daily packet;
2. An increase in the total natural ingredients to 3320mg in each daily packet;
3. Re-introduction of the 3-month Prostate Health Program providing over 54% savings; and
4. The announcement of a "Preferred Shipping" program providing additional savings to customers (on the 3 month program with Autoship the per bottle price for Prost-P10x is reduced from $89.95 to $53.91).
The Prost-P10x formula has also received some great support from both Ron Bazar, Author of "Healthy Prostate" and Bill Gottlieb, Author of "Beyond Saw Palmetto: Best Ways to Beat an Enlarged Prostate". Bill is the former Editor of Prevention Magazine and had this to say about Prost-P10x:
"For my money, one of the best prostate formulas on the market is Prost-P10x. It's the most intelligently conceived supplement on the market; it's so rare that a supplement is both multi-component and reflects the clinical research that justifies the ingredients inclusion. You really gave guys what works, and what they need!"
For more Testimonials click here
For more information on the Prost-P10x formula click here