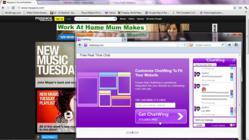 San Francisco, CA (PRWEB) May 26, 2012
Myspace, one of the most famous blogging and social platforms, is still generating a lot of sign-ups. However, Internet statistics has also implied that Myspace suffered from a large percentage of attrition ever since Facebook and Google+ stepped up. Inactive Myspace users who want to join the online hustle again can rely on Chatwing in establishing an online presence. Chatwing is a simple web chat application that can be installed to most blogs and websites. It can also be used as a chatting engine that can bring hours of uninterrupted fun.
Recently, Myspace users have been using Chatwing in order to promote their spaces. Since most Myspace users are entrepreneurs who have online shops, Chatwing provides an immediate solution to their marketing woes. One of Chatwing's strong features is social media integration. Through Facebook and Twitter log-in, Chatwing users can now have more friends. For Myspace entrepreneurs, this is crucial. Marketing through a simple chat widget can really save time and a lot of money.
Ease of access is also one of Chatwing's strong points. In fact, this is the feature that has contributed to Chatwing's overall rank. Many bloggers have admired Chatwing's straightforward function and relaxing purple theme. Chatwing users who want to install the chat tool can also change its color if the default purple theme does not appeal to them. Bloggers have also preferred Chatwing over other chatrooms because it doesn't need to download anything and installation takes only a few seconds.
Chatwing's latest version is also faster and it can accommodate up to 600 users. This simply means that people can now connect efficiently with varying topics and discussions to choose from. Also, Chatwing has an active Facebook page that is frequently updated with fresh and useful content. In Chatwing's main page, there is an embedded shoutbox that can be used by everyone. An admin is usually present to deal with questions and inquiries.
About Chatwing.com
Chatwing.com has developed live web chat software for websites and blogs. It caters to different online communities due to its high rate of connectivity. Everyone can create a customizable live chat box in 1 minute or less. Users have the ability to customize the size, color, and fonts of the chat product. The ability to chat via social media accounts such as Facebook and Twitter enable Chatwing to offer a personal and unique real-time chats to all sites. Chatwing is 100% free and very easy to use.