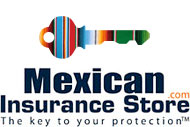 We knew there had to be an easier way," says Gray. "People don't like being at the border any longer than they need to be. Those shacks at the border usually take forever. It's frustrating.
Perris, Calif. (PRWEB) May 22, 2012
Mexican Insurance Store, one of today's leading online Mexican auto insurance companies, recently celebrated its nine-year anniversary. The company, which provides a wide range of car insurance for Mexico products from some of today's most reputable insurers, is waiting for its ten-year anniversary next year to hold a major celebration. "Nine years is a huge accomplishment, and we're proud of it," says Linden Gray, the president of Mexican Insurance Store. "What we're really pumped up about is our ten-year anniversary. We're holding off until then to pull out all the stops in terms of celebrating." The company may be staying fairly quiet about its nine-year anniversary, but that's only because it is busy providing online Mexican auto insurance to travelers.
A lot has changed during the nine years in which Mexican Insurance Store has been in business. Nine years ago, the year was 2003. The Internet was an entirely different place. At that time, the vast majority of travelers bought their Mexico car insurance policies at the border. "There weren't very many options," says one Mexican Insurance Store employee. "It was either buy it at the border or buy it from a local agency. Either way, you were going to pay a premium, and you were going to have to deal with a lot of hassle."
Mexican Insurance Store sought to change the way in which people bought this important insurance. The company has always been committed to simplifying the process of finding high-quality, affordable car insurance for Mexico. "We knew there had to be an easier way," says Gray. "People don't like being at the border any longer than they need to be. Those shacks at the border usually take forever. It's frustrating. Buying at a local agency usually meant waiting awhile for the processing to go through, which is also frustrating. Nine years ago, we set out to make things a lot easier."
Many of Mexican Insurance Store's regular customers have been getting insurance from the company for years. "I started buying insurance from Mexican Insurance Store about six years ago," says one customer. "Up until then, I'd always bought my insurance at the border. The last time I did, I actually got ripped off. My policy wasn't rated, and I ended up owing a lot of money. I had to pay for too much out of my own pocket. Luckily, someone told me about Mexican Insurance Store. I still go to Mexico regularly, and I always buy my Mexico car insurance from them."
Nowadays, there's a lot more competition in the field of online car insurance for Mexico. "There are a lot more Mexican insurance providers out there than there were nine years ago," says the employee. "We're not sweating it though. Many of them sell unrated policies, and they can't hope to compete with our level of customer service, our prices or our selection." President Linden Gray agrees. "We are confident that we have the best online Mexican auto insurance policies," he says. "We don't rest on our laurels though. We're always cooking up new ways to make things easier for travelers. We plan to unveil some exciting changes in honor of our 10-year anniversary, which is just a year away."
About Mexican Insurance Store.com
Mexican Insurance Store is the largest provider of Mexican Auto Insurance in South California's Inland Empire, the 3rd most populous metropolitan area in California. The company offers a variety of Mexico Car Insurance policies online and provides policies to Canada and US travelers nationwide. Self-service policies are purchased and printed instantly by customers or created by Mexican Insurance Store and emailed or faxed to customers in minutes at no additional charge.
For additional information call 888 800 9988 from US or Canada or 001-881-800-9988 from Mexico or 951-657-4220 Direct.
Contact:
Mexican Insurance Store
service(at)mexicaninsurancestore(dot)com
3819 Saint Austell Way
Perris, CA 92571
Fax 626 638 3255
###