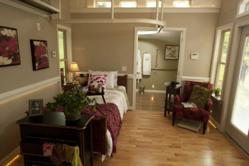 The first placement with a family validates our vision – to develop an alternative model for healthcare.
Salem, VA (PRWEB) May 24, 2012
N2Care today announced the first placement of the MEDCottage, a portable, modular medical home that enables families to take care of loved ones on their property as an alternative to long-term care facilities.
A family in Fairfax, Va., has purchased the 300-square-foot MEDCottage (http://www.medcottage.com), loaded with technology and amenities for the health, wellness, safety, security and comfort of the elderly or those recovering from illness or injury.
"Today, as 78 million Baby Boomers prepare for their senior years – potentially straining nursing homes and government-funded health care programs – we've taken a significant step forward in redefining the role of family in healthcare," said Ken Dupin, founder and CEO of N2Care, innovators of the MEDCottage. "The first placement with a family validates our vision – to develop an alternative model for healthcare."
The MEDCottage combines the comforts of home with technology normally available only in medical facilities at costs less than a nursing home. It contains a family communication center that provides off-site caregivers with telemetry, environmental control and dynamic interaction using smart technology throughout the charming, comfortable modular home.
The MEDCottage features three rooms: a kitchenette with a small refrigerator, microwave, bedroom with optional hospital-caliber bed; bathroom with walk-in shower and ample room to maneuver.
It's loaded with health- and safety-enhancing technology, many elements added since the first prototype was first available for sale a year ago. These include:
● Monitors that measure a resident's blood pressure, pulse, temperature, weight and even glucose levels
● An optional nutrition tracker that tracks food and fluid intake.
● A medication dispenser
● Emergency pull cord in the bathroom
● Optional bed sensor
● Entry security camera
● Front door locking status
● Smoke and carbon monoxide sensors
● Alarm keypad
● Controls to change inside temperature, humidity, lighting
Some of the MEDCottage's other optional features include:
● A video system called Feet Sweep that monitors the floor at ankle level, so the patient would have privacy but a caregiver would know if there were a problem.
● A lift, attached to a built-in track in the ceiling, that can move a patient from bed to bathroom so the caregiver could avoid heavy lifting.
● Motion-sensored floor-level lighting
● Smartcells fall protection flooring
MEDCottages are available through a growing network of distributors with plans to grow nationwide. MedCare Systems of Mechanicsville, Va., placed the first MEDCottage in Fairfax. The MEDCottage can be purchased or leased and temporarily placed on the care-giving family's property. The unit connects to a single-family house's electrical and water supplies.
The MEDCottage caps costs and preserves family wealth, enhances quality of life by increasing family interaction, provides a tangible asset that can recuperate and reduce long-term care costs, and provides proximity to loved ones while maintaining separation and independence.
"End-of-life care is emerging as the most pertinent concern for the Baby Boomer generation," Dupin says. "Boomers have a particular fear of being isolated from family and institutionalized in the final stage of life. Consequently, there is a need in the market for an innovative alternative to care for the aging population unlike any current options for end-of-life care."
ABOUT N2Care
N2Care, based in Salem, Va., is changing the way people think about senior healthcare. With an unyielding focus on independence, dignity and care, our products provide aging family members with new options to live independently. The N2Care mission inspires our team day in and day out: to design, create and deliver products that will enable families the opportunity to directly participate in the extended care of loved ones. To learn more, please visit http://www.medcottage.com.