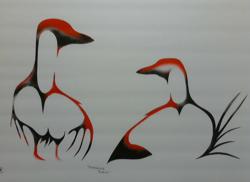 Kingston, Ontario (PRWEB) May 24, 2012
Local artists from the group "Different Strokes", are uniting once again to exhibit at a local soup kitchen in Kingston, Canada to share with, not only Kingston, but the world, their many various styles of artwork inspired by the deep and troubling emotions many of them face, almost, on a daily basis. Co-ordinator Randy Johnson, has started a daunting task of trying to promote and enrich the group since taking the position. Peter Hill is just one of the artists who struggles to survive his emotional disabilities of trying to live through to the next day. Finances, with surviving on a disability pension, as many in the group do, often impedes their ability to adequately express themselves to the only means possible, their art.
"When bills are not biting at my heels, art is the only time I can forget the pains of life," as Hill puts it. Many in the group are very artistically gifted, with styles ranging from finely envisioned realism, abstract, stylized figurative art to extremely detailed cartoon art, just to name a few.
Struggling with daily existence, many overcome the minute-by-minute feelings of survival to the joy of sharing in the group and having fun when they are able. Some find it hard to participate at group meetings, but still attend. The goal of these artists is not just for people to understand their pains, but to enrich themselves by the beauty these artists produce, despite their pain.
"Our pain is our lives, our beauty is reflected in our work. It is joy to us to be able to have some self-worth by sharing and selling our work."
The exhibition is slated to run at Martha's Table in Kingston, June 30th, 2012 from 2-6 p.m. Event is to be catered with minor snacks and non-alcoholic beverages.
For more information concerning this event or "Different Strokes" contact co-ordinator Randy Johnston at differentstrokesartgroup(at)hotmail(dot)com.
For more information, please visit:
http://fineartamerica.com/profiles/peter-hawke-hill.html
or contact direct at 613-544-7424 or 613-329-1088