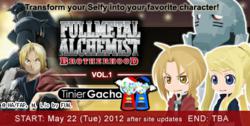 San Francisco, CA (PRWEB) May 23, 2012
Fullmetal Alchemist: Brotherhood is coming to TinierMe. TinierMe, the virtual world and game site, with the green light from FUNimation Entertainment, welcomes the internationally famed Japanese manga and anime series. Lovers of Japanese anime, pop, and fashion will now be able to virtually own a piece of the series. This collaboration will also give an opportunity for Fullmetal Alchemist fans to cosplay his or her favorite characters in TinierMe's virtual world.
TinierMe's continuing efforts to introduce Japanese animation to the English-speaking world, they are taking a grand step into the right directions with its current content. Through the TinierMe and Fullmetal Alchemist: Brotherhood collaboration, both fans of the website and series are guaranteed to receive a new virtual entertainment.
ABOUT Fullmetal Alchemist
Fullmetal Alchemist: Brotherhood is a second series of Fullmetal Alchemist introduced on August 2001 in Square Enix's Monthly Shonen Gangan magazine. It is both written and illustrated by the talented Hiromu Arakawa. Fullmetal Alchemist: Brotherhood was premiered in Japan on April 5, 2009 and ended after 64 episodes on July 4, 2010. Since its debut, the popular series expanded to spin-off novels, soundtracks, collectible card games, actions figures, and even video games. Fullmetal Alchemist: Brotherhood features two brothers, with the power of "alchemy" trying to bring back their mother who died of an incurable disease. The brothers' efforts fail and the older brother Edward Elric loses his left leg, while his younger brother Alphonse Elric loses his whole body. Edward captures Alphonse's soul in a suit of armor before losing his right arm. With metal limbs in place of his lost ones, Edward search for the Philosopher's Stone ignites to help return to their original bodies.
About FUNimation Entertainment
Founded in 1994 with the acquisition of the hit television series "Dragon Ball Z" from Toei Animation. Since then, FUNimation® Entertainment now has more than 300 active titles and has established itself at the leading company for home video sales of Japanese animation in the United States. FUNimation manages a full spectrum of rights with its brands including broadcasting, licensing, production, Internet, and home video sales and distribution.
FUNimation is focused on acquiring and producing high-quality properties and the company takes pride in its exceptional production work and its proven formula for launching and advancing brands through its internal licensing, sales, distribution and operations departments as well as marketing, advertising, public relations, social media and grass roots marketing, plus cross promotion opportunities with licensees, national fast food promotions and promotional opportunities with broadcast and online content partners. For more information about FUNimation Entertainment and its brands, visit http://www.funimation.com.
Official Websites:
http://www.fullmetalalchemist.com
http://www.funimation.com
About TinierMe:
TinierMe is a fun virtual world based on Japanese anime and culture. With users around the world, the site lets you build a tinier version of yourself so you can chat, play and create online. TinierMe includes: Selfy Town, a virtual world; Selfy Shop, where you can get everything you need to create and build your character; and Tinier Games, a place to play card games, interactive challenges and brain teasers with other members. TinierMe lets you experience Japanese culture easily and escape from the doldrums of the real world through your imagination and creativity. GCREST America, Inc. is the company behind TinierMe, and is a fully owned subsidiary of GCREST, Inc. in Japan. To create your own Selfy and join the fun, come to http://www.tinierme.com.