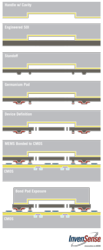 MEPTEC, San Jose, Calif. (PRWEB) May 23, 2012
InvenSense, Inc. (NYSE: INVN), the leading provider of MotionTracking™ devices for consumer electronics, continuing on a tradition of pioneering MEMs technology breakthroughs, today came forward with another game-changing strategy. The company is offering its proprietary MEMS fabrication process for use by all MEMS developers on a limited licensing basis. The NF-Shuttle offering enables emerging MEMS developers to focus on innovation rather than time consuming and costly specialized fabrication development. The NF-Shuttle will be showcased today at the MEPTEC MEMS Technology Symposium at the San Jose Holiday Inn.
"At InvenSense, we are committed to seeing the proliferation of MEMS products on our proprietary fabrication platform not only in inertial sensors but also in resonators, microphones, switches, pressure sensors, RF tuners, etc.," said Steve Nasiri founder and CEO of InvenSense. "We have found there are many companies and universities that have brilliant ideas yet they need to spend as much as 60 to 80 percent of their time and development resources on MEMS-related fabrication due to lack of any viable off-the-shelf processes. With our platform it is now possible to bring innovative MEMS products to market much faster and at significantly lower costs."
The InvenSense NF-Shuttle is a silicon CMOS-MEMS platform where mask costs are split amongst multiple users as they can purchase "seats" on the same mask. This approach reduces production costs for participants to a fraction of the total and thus provides a greater opportunity to verify their advanced designs and prototypes in silicon. The initial shuttle test run which took place in January was offered to selected participants from University of California Berkeley with U.C Davis, Stanford University, and a few other institutions. Due to the excellent turn-around time, cost and results, the aforementioned institutions have secured space on InvenSense's next two shuttles. InvenSense's second shuttle is scheduled for May 30th, with an increased number of selected participants. The company is opening a third shuttle to a broader audience and is taking orders now. The third shuttle is slated for takeoff on December 5, 2012.
To learn more about participating in InvenSense's NF-Shuttle Program, please contact InvenSense at nfshuttle(at)invensense(dot)com
About InvenSense's Proprietary Fabrication Platform
The InvenSense NF Platform has been used to produce over 200 million MEMS units to date. The disruptive, patented Platform is able to combine MEMS on CMOS (also known as CMOS-MEMS) in a small, cost effective standard package resulting in significant performance, reliability, integration and cost benefits. The combining of a MEMS wafer with an industry standard CMOS wafer allows InvenSense to reduce the number of MEMS manufacturing steps, perform wafer-level testing, and use chip-scale packaging, thereby reducing back-end costs of packaging and testing and improving overall yield. The InvenSense approach is proven to address MEMS electrical interconnect issues, hermetically seals MEMS structures at the wafer level and enables standard low-cost semiconductor packaging and testing. The NF Platform has enabled the development of world class inertial sensors with the industry's lowest noise performance, lowest power consumption, and smallest package size.
About InvenSense
InvenSense Inc. (NYSE: INVN) is the leading provider of MotionTracking™ solutions for consumer electronic devices in the world. The company's patented Nasiri-Fabrication platform and patent-pending MotionFusion™ technology address the emerging needs of many mass-market consumer applications such as, improved performance, accuracy, and intuitive motion and gesture based interfaces. InvenSense technology can be found in consumer electronic markets including smartphones, tablets, gaming devices, optical image stabilization, and remote controls for Smart TVs. InvenSense is headquartered in Sunnyvale, California and has offices in China, Taiwan, Korea, Japan, and Dubai. More information can be found at http://www.invensense.com.
For quotes or inquiries about InvenSense products, please contact InvenSense Sales Team: sales@invensense.com. Or for further information about InvenSense, http://www.invensense.com.
For Press Inquiries, Contact:
Eileen Elam
408.988.7339
pr(at)invensense(dot)com
© 2012 InvenSense, Inc. All rights reserved. InvenSense, MotionTracking, MotionProcessing, MotionProcessor, Nasiri-Fabrication, MotionFusion, MotionApps, DMP, and the InvenSense logo are trademarks of InvenSense, Inc. Other company and product names may be trademarks of the respective companies with which they are associated.