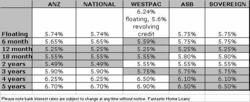 (PRWEB) May 24, 2012
Fantastic Home Loans would like to provide you with an insight into what is happening with mortgage rates in the last week, as homeowners with mortgages or new home buyers are being advised to shop around now that competition among banks is heating up to drop interest rates.
ANZ and National dropped their one-year fixed rates last week to the lowest they have been in 17 years. While ANZ's rate was the lowest "carded" one-year fixed rate at 5.25%, all other leading Banks followed suit. It doesn't beat Kiwibank's current one-year fixed special at 4.99% for those with at least 30% equity.
So this is a great time for consumers, particularly those on floating rates, to call us now about the fantastic deals we can get for you. We can exercise this power on your behalf and do the shopping around with the banks, all without you leaving the comfort of your own home.
The current advertised bank interest rates with the leading banks FHL deal with are shown in the above table.
We have negotiated a minimum of 0.25 to 0.5% off the advertised floating and fixed rates, more in most cases, not to mention the contribution to professional fee incentives which can make it a worthwhile exercise if you are wanting to refinance away from your existing bank. Not one client has had to pay advertised rates, you'd be surprised by the number of people who pay the advertised rates when dealing direct with the Bank.
FHL is part of the Crown Group, a successful and long established group of companies based in Takapuna, Auckland.
For more information about Fantastic Home Loans and how they can help smooth the path to 'best-fit' loans from reputable lenders visit http://fantastichomeloans.co.nz/ today