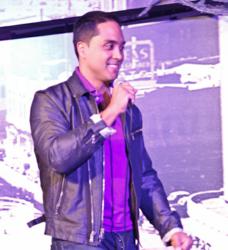 San Diego, CA (PRWEB) May 23, 2012
San Diego welcomes top comic, Michael Quu . He will be bringing his comedic talents to San Diego on May 29th at the La Jolla Comedy Store. Tickets are on sale now for this very special event from one of the fastest rising comedians performing today. A major hotel chain is giving out 30% discounts all Memorial day weekend to ticket holders.
You may have seen the New York born Michael Quu performing on numerous television appearances. Most notably on his comedy half hour special titled "Comedy Madness".
Quu pronounced "Q" is known for his prowess in observational comedy and side-splitting crowd work. His incredible physicality in his stage performance has had critics compare him to a mix between Jo Koy and Dane Cook.
"Michael Quu's abilitiy to convey a story through body movement undoubtedly has a Dane Cook inspired rhythm. " stated Melonie Sando of the New England Chronicle
Although of Filipino heritage, Quu rarely mentions this on stage. He stays clear of performing material that has to do with his ethnicity such as great and well known Filipino comedian Rex Navarette.
"I don't want to label myself as just a Filipino comic because I want my comedy to appeal to all audiences regardless of nationality. Plus Rex Navarette is so good at what he does I would never want to be compared to him"
In 2011 Quu's Comedy Madness show played an amazing 185 dates to mostly sold out crowds. The show draws a varied audience in their 20's and 30's.
The Comedy Madness show date is set for May 29th at the La Jolla Comedy Store. Quu promises a tremendous show to San Diego and will feature all new material.
Tickets to the San Diego show can be purchased at special promotional discount rate of $5 by following the link below.