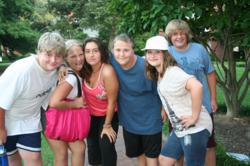 "This content will give a lucky winner the chance of a lifetime," stated Francis Van de Beuken, WellBalance's Director of Online Marketing at WellBalance
Asheville, NC (PRWEB) May 23, 2012
WellBalance, a leading fitness and weight loss camp with locations in northern California and Cape Cod Massachusetts, is offering a free 5-week stay for a worthy teen.
"We have attracted a great deal of interest in our programs due to our balanced, realistic approach and our fantastic staff and weight loss camp locations," commented John Gordon, CEO, "This 5-week offer is a chance to give someone the chance of a lifetime—to lose weight, get in shape, improve self-esteem, have fun, and make lasting friendships."
Applicants must be between the ages of 10 to 20 and be willing to attend one of WellBalance's summer weight loss camp locations in Santa Cruz, California or Cape Cod, Massachusetts. All potential entries "like" WellBalance's Facebook page and submit answers to a few basic questions. These answers will be shared on WellBalance's Facebook page. Finalists will be involved in a Facebook poll and winners will be determined based on poll votes and need as assessed by a panel review.
As part of their free 5-week stay, the winning camper will share their weight loss journey at WellBalance. Besides being featured in a national social media campaign, the winning camper will also learn WellBalance's ME Plan designed to Motivate and Educate how to be healthy for a lifetime.
"By featuring a teen camper's weight loss journey, we are going to be able to show children, adolescents, and families that it is possible to overcome obesity," stated Francis Van de Beuken, WellBalance's Director of Online Marketing at WellBalance, "This content will give a lucky winner the chance of a lifetime while showing others that a complete emotional and physical transformation is possible at WellBalance weight loss camps"
As part of the requirements for accepting the five-week weight loss camp scholarship, the winning camper must either be willing to update their progress and promote camp activities using a variety of social media sites such as Facebook, Twitter and YouTube or handle picture and video editing for camp. WellBalance will provide training, as needed.
Information and contest rules are available here on WellBalance's website. All responses and likes for initial entry are due at 11:59pm on Friday, May 25. Once applications are received, WellBalance will choose a list of finalists that will be listed on the WellBalance weight loss camp Facebook page from May 26 to June 1. During this time, visitors to the WellBalance page can vote for the potential camper they deem to be the most deserving of the scholarship.
The winner of the free 5-week weight loss camp stay will be announced on June 2.
All entries and additional questions can be directed to info(at)wellbalance(dot)com.
WellBalance (http://www.WellBalance.com) designed the ME Plan to Motivate & Educate on what medical research shows works for sustainable fitness, weight loss, and health success. Founded by professionals and guided by experts who have led some of the largest behavioral health, mental health, and treatment programs in the country, WellBalance is working to become the leader with a focus on improving an individual's overall health. WellBalance developed the WellBalance Health Score© to rate a person's overall medical, emotional, and fitness health status as well as show a person's progress towards health norms. WellBalance operates weight loss summer camps, local programs, and fitness programs for adults. For additional information please visit http://www.wellbalance.com or call (800) 975-0435.