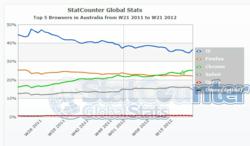 It will be a rare website that displays well on all these screen resolutions in all these browsers and the problem is growing as the range of screen resolutions grows
Brisbane,Queensland,Australia (PRWEB) May 23, 2012
Stat Counter Global Stats just released their latest breakdown of internet browser usage around the world and the analysis of Australian internet users showed an uptick for Internet Explorer, the continued steady rise of Google Chrome whilst Safari flatlines having grown in recent times and Firefox roughly maintained it's 2012 market share.
IE DOMINATES AUSTRALIA
The fact that Internet Explorer still dominates Australian internet browsing with a 36% market share over Chrome at 25%,Firefox at 22% and Safari at 15% is a surprise to Online marketing specialist, David Twigg, he says "It is very rare to hear anybody eulogising about IE these days, a couple of years ago Firefox was all the rage and now it is generally considered Google has produced the best browser around in Chrome. I am sure there are many people who want to reduce the private information flowing into Google's coffers by avoiding their browser but other than that I can only assume IE is still the default browser on most PC's here in Australia."
CHINA BUCKS THE TREND
StatCounter's worldwide figures tell a very different story Chrome is now the number 1 browser in the world having just overtaken Internet Explorer, each have 32% of the market with Firefox at 26% and safari at 7%. One of the surprising results of StatCounter's analysis is that IE retains market dominance in China with a 72% market share, Chrome only has 13% in China.
AN ISSUE FOR WEB DESIGN
The major relevance of these statistics is to the online marketing industry particularly in Web design, websites generally display slightly differently in each of the major browsers, sometimes coding issues can cause major differences that can ruin a website's presence and hence ability to convert visitors into prospects. Beyond the variance in Browsers being used on the internet there is also another substantial and growing variable that needs to be considered, that is screen resolution.
VAST RANGE OF SCREEN RESOLUTIONS
According to StatCounter, Australians view the internet via a wide range of screen resolutions with 20% using 1366 x 768. David Twigg says "When you include the huge monitor sizes that are coming onto the market since Apple's Imac was launched and the tiny Iphone screen as well as the more square Blackberry screen and add those to the vast range of laptop,desktop and ipad type devices you get a huge range of shapes and sizes with many different screen resolutions,that's why despite the fact that StatCounter have identified 10 screen resolutions that get between 2 and 20% market share, the "other" category is the second largest at 17%. It will be a rare website that displays well on all these screen resolutions in all these browsers and the problem is growing as the range of screen resolutions grows."
COMPANIES NEED TO CONSIDER HOW THEIR SITE DISPLAYS
Most websites these days are running some form of Analytics software, aggregating user information to use in determining online strategies, it is within these packages that the browser and screen resolution breakdown will be analysed. Twigg says it is vital that businesses are aware of how their website displays "Most business people only tend to view their own company website on one platform, typically their office PC/Mac or sometimes on their smartphone, so they only know how it looks in a small minority of users experience. Cross Browser and Cross Resolution testing needs to be done regularly, we do this monthly for our clients as part of our online marketing services."
ABOUT OMC
Online Marketing Consultants Pty Ltd was launched in 2009 to solve a fundamental business challenge, how to get new leads cost effectively. Through substantial testing and hundreds of client campaigns a clear strategy emerged that revolved around the 2 main factors of traffic and conversions. To read the company's latest views and information go to their website at http://onlinemarketingconsultants.com.au/