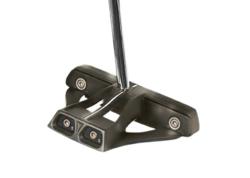 Baltimore, Md. (PRWEB) May 24, 2012
STX congratulates Annie Park of Levittown, N.Y. on her recent medalist performance in a U.S. Women's Open Sectional Qualifying tournament.
Park, of Levittown, N.Y., qualified for the U.S. Women's Open this July by winning a sectional tournament last week at Trump National Golf Club in Colts Neck, N.J. In the New York Newsday recap of the win, reporter Mark Herrmann wrote, "Park said that switching to a new STX putter really helped, particularly in the second round, when she made eight birdies and only one bogey."
According to the Newsday report, Park advanced to the semifinals of the U.S Women's Amateur last year and announced recently that she will attend the University of Southern California following graduation. The U.S. Women's Open will be held at Blackwolf Run in Kohler, Wis. July 5-8, 2012.
Park uses the highly customizable ProFIT 6 putter with interchangeable weights and inserts that allows the player to adapt the putter to all playing conditions. The STX ProFIT Series Putters include three STX inserts, the black insert provides 25% quicker forward roll than any other face on the market, the red insert adds 3" of distance on a 40' putt, and the green insert adds 6" of distance when compared to the black insert on the same 40' putt. STX soft face technology gives the putter superior distance and directional control by increasing face dwell time and maximizing the coefficient of friction between the Putter face and ball.
STX has no official relationship with Park, the company simply wanted to congratulate her on the win and wish her success at the U.S. Women's Open.
For more information about STX putters, please visit http://www.stxgolf.com.
About STX:
STX is a global sporting goods leader in the sports of lacrosse, field hockey and golf. With its 1970 introduction of the first synthetic lacrosse head, STX ushered in the "modern era" of what is now the fastest growing team sport. Based in Baltimore, the home of lacrosse, STX has been universally recognized for innovation in product design and development. STX continues to strive for new performance standards in sporting goods equipment at the highest levels of competition. For more information, visit http://www.stx.com.